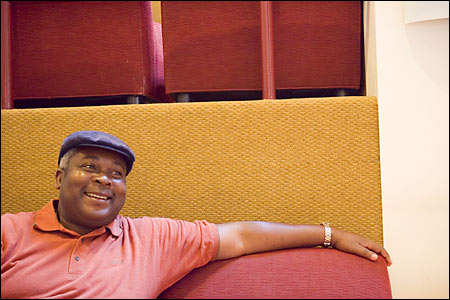 Elias Mudzuri knows he has a fight ahead of him when he returns to his native Zimbabwe after graduating from the John F. Kennedy School of Government in June.
The former mayor of Zimbabwe's capital city, Harare, and a leading member of the opposition to Zimbabwean President Robert Mugabe, Mudzuri is well aware of the strong-arm tactics that Mugabe and his supporters can employ.
In fact, if it wasn't for those strong-arm tactics, Mudzuri wouldn't have spent the past year as a Mason Fellow, earning a master's degree in public administration at Harvard's Kennedy School. He would have spent it running Harare, filling out the last year of his first term and campaigning for a second.
"I'm confident I'd be beginning my second term [now], because the people of Harare liked me so much," Mudzuri said.
Mudzuri was elected mayor of Harare in 2002 as a member of the opposition Movement for Democratic Change (MDC). As an opposition leader in a government that has a poor record tolerating dissent, Mudzuri didn't last long. The government suspended him in April 2003, a move many viewed as being politically motivated.
Though his term was supposed to end in March 2006, because no election was held for his replacement, Mudzuri said he can still be considered the de facto mayor even today.
Mudzuri, a civil engineer by training, became involved in the MDC out of frustration with government policies and a desire to see things change.
Mudzuri is not alone. Zimbabwe has been dominated by Mugabe since independence in 1980. Mugabe, head of the ZANU-PF party, has served as the nation's only leader, first as prime minister and later as president. His recent policies have included a land redistribution plan that began in 2000 that prompted many white farmers to leave the country and crippled the economy. He also initiated a 2005 urban "cleanup" campaign in Harare that destroyed the homes and businesses of about 700,000, leaving them homeless and out of work.
Though both out of the country and out of office, Mudzuri has not been out of politics. In March, he was elected the MDC's national organizing secretary and he said he plans to continue to push for peaceful democratic change on his return to Zimbabwe in June.
"I'm still confident that we will one day take over the government, but it will take a lot of work. The democratic space [in Zimbabwe] has been reduced much more," he said.
Though the cards may be stacked against the opposition, Mudzuri said they plan to work peacefully for change within the system. That is the only way they can be successful, he said, because the government will use any excuse for a violent crackdown.
"We have to mobilize people within the system," Mudzuri said. "Allowing violence plays into Mugabe's hands. By going peaceful, we can resist him."
Though there's always danger standing up to the government, Mudzuri said Zimbabwe is ripe for change. Unemployment and inflation are both high, food and medicine are scarce, and AIDS remains a threat.
Mudzuri said he came to Harvard to learn more about public administration so that he can lead more effectively when he returns to office. He said he's picked up valuable knowledge from each class, from what qualities make a good leader to negotiating skills to the importance of ethics and fighting corruption.
"Almost everyone gave me something serious," Mudzuri said.
He also got an eye-opening taste of democracy, American-style. While sitting in the John F. Kennedy Jr. Forum, he was able to see critics of the American government of every stripe, speaking their views freely.
Mudzuri said he wishes other Zimbabwean leaders could have a similar experience as he has had because the government would benefit for it. Even without that, however, Mudzuri said he was optimistic that change is on the way for his country.
"If I wasn't [optimistic] I wouldn't be in politics," Mudzuri said. "It's the right time to help Zimbabwe out of its mess."