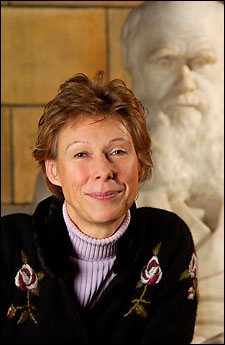 Janet Browne, a noted historian of biology whose two-part biography of Charles Darwin has won wide acclaim, has been named professor of the history of science in Harvard University's Faculty of Arts and Sciences (FAS), effective Sept. 1, 2006.
Browne, 55, has taught for much of the past 25 years at University College, London, where she has been professor in the history of biology since 2002.
"Professor Browne is the world's leading scholar on the life, times, and thought of Charles Darwin, a compelling historical figure who exerts a continuing powerful influence on our society," says William C. Kirby, Edith and Benjamin Geisinger Professor of History and dean of the Faculty of Arts and Sciences. "She has mastered that most difficult of historical genres, the biography, and furthered greatly the history of evolutionary biology. It is a pleasure to welcome her to the faculty."
Browne honed her Darwin expertise as associate editor of "The Correspondence of Charles Darwin" (Cambridge University Press), a continuing 14-volume series, published since 1985, analyzing some 14,000 letters. Her two-volume Darwin biography – "Charles Darwin: Voyaging" (Knopf, 1995) and "Charles Darwin: The Power of Place" (Knopf, 2002) – paints a vivid portrait of the reclusive scientist's life, work, and influence, while crafting a collective biography of the Victorian scientific community by viewing him as a node in a vast social and intellectual network.
Widely read by a general audience, Browne's Darwin biographies have been described by various reviewers as "magisterial," "monumental," "dazzling," "definitive," "brilliant," and a "masterpiece." The work has won literary and scholarly prizes including, in 2003, the National Book Critics Circle Prize, the W.H. Heinemann Award, and the Royal Society of Literature Prize. A planned survey of 20th century Darwinism would serve as a third volume of Browne's Darwin biography, tracing the evolution of the Darwinian legacy through the decades since the seminal scientist's death.
Browne is currently working with a colleague on a new book, scheduled for publication in 2008, on the gorilla as an object of scientific and cultural concern since the late 1800s. Her first book, "The Secular Ark" (Yale University Press, 1983), traces the interest of 18th century philosophers, theologians, and scientists in the question of why species are randomly distributed around the world if created by a single divine act – a history Browne recounts from early modern efforts to square the story of Noah's Ark with contemporary species distribution through the demise of 19th century creationism in the face of Darwin's theory of evolution by natural selection.
Browne holds a B.A. in natural sciences, awarded in 1972 by Trinity College, Dublin, and M.Sc. and Ph.D. degrees in the history of science awarded by Imperial College, London, in 1973 and 1978, respectively. She was a visiting fellow in Harvard's Department of the History of Science in 1978-79 and a Wellcome Fellow at the Wellcome Institute for the History of Medicine in 1979-80. She continued at the Wellcome Institute and University College, London, as a lecturer in history of science from 1983 to 1996 and a reader in history of biology from 1996 to 2002. Browne also served as a senior research associate at Cambridge University Library in 1990-91, and was senior visiting research fellow at King's College, Cambridge, in 1996-97.