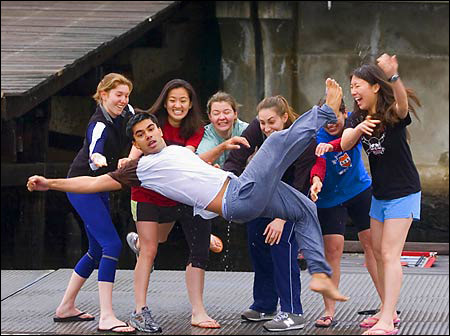 Harvard senior Prashant Sharma thought he wanted to study molecular and cellular biology when he arrived at Harvard four years ago, but the mysteries of evolutionary biology drew him away.
Today, the graduating senior is planning on medical school, but admits that the spiderlike harvestmen he's been studying to tell an evolutionary tale on the island of New Caledonia may lure him away.
Sharma, who last fall authored a scientific paper describing a new species of spiderlike harvestmen, also known as daddy longlegs, is taking a year off before making a final decision.
Since the end of his freshman year, Sharma has been working in the lab of Associate Professor of Biology Gonzalo Giribet, who is also associate curator of invertebrates in the Museum of Comparative Zoology and an expert on harvestmen.
One of the highlights of Sharma's time at Harvard was a trip to Sri Lanka over the summer after his sophomore year to scour the Indian Ocean island's rainforests and mountains and collect new harvestmen specimens.
Starting in January 2005, Sharma began focusing on another island's harvestmen, New Caledonia, in the Pacific Ocean. Though he didn't visit New Caledonia, Sharma spent months examining samples of the island's harvestmen in the Museum of Comparative Zoology's collection.
As he looked, he saw creatures that hadn't been described by science before. His description, published in Zootaxa in September 2005, describes Troglosiro longifossa, an orange-brown harvestman that is one of the smallest in its genus. These harvestmen have a distinctive depression in the middle of their abdomen for which they were named. "Longifossa," Sharma explained, means "elongated trench."
"He graduates with one published paper as senior author and a second paper in press, both describing new species of daddy long-legs. He has also done a much larger study of the fauna of New Caledonia, with the description of five new species that we are planning to submit in the fall," Giribet said of Sharma. "So he has been extremely productive in the lab."
The Mather House resident didn't spend all his time at Harvard peering through scanning electron microscopes and tramping through the woods, however. Sharma also served as a prefect for three years and served as a coxswain for his House's women's intramural crew. Sharma said he enjoyed his time on the crew because he didn't have time to participate on an intercollegiate team, but didn't want to leave the sport entirely.
"It's sort of the ultimate team sport," Sharma said.
Sharma, whose family moved to Massachusetts from India when he was young, said he remembers being enthralled by the birds, monkeys, and other animals near his Gujarat home. That fascination translated to an interest in biology that still drives him today.
"Growing up in India with all the wildlife around me, I was fascinated by animal life," Sharma said.
Sharma said his current plans include attending Duke University Medical School, though his admission is deferred until September 2007. Sharma intends to take that year to explore other interests, such as the German language, which he plans to study in Germany this summer.
In addition to his trip to Germany, Sharma plans to continue working on harvestmen and hopes to travel to New Caledonia to do fieldwork there. His senior thesis, which received an "exceptional" grade, examined what New Caledonia's harvestmen can tell science about the rise of new species on the island. The trip also will give him time to consider whether he might be more interested in biological research than medicine.
"I've really enjoyed what I've done," Sharma said.