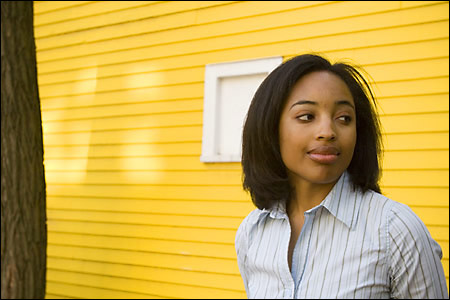 Watching her grandfather struggle with diabetes late in life, Enesha Cobb became convinced that the medical profession can do better.
Because it didn't, her grandfather had two battles instead of one, Cobb said. One was with the diabetes but the other was with a health care system that at times seemed cold, confusing, and uncaring.
"There was this huge disconnect. There's often a disconnect between what the doctor is saying and what the patient understands," Cobb said. "It's something I saw over and over again, both in my family and in medical school. … I asked, 'What isn't being addressed in this situation?'"
Cobb wants to help repair the disconnect, to restore the missing element in a health care system that she says focuses too much on the nuts and bolts of illness and disease and not enough on the person suffering them.
Taking a break after her third year at Johns Hopkins Medical School, Cobb decided to attend Harvard Divinity School, where she earned a master's degree in theological studies.
"I was interested in looking at the way that spirituality and religion play a role in people's overall perspective on health," Cobb said. "I'm interested in looking at alternative therapies and looking at medicine in cross-cultural contexts."
Cobb said she believes that religion and spirituality are far more important to – and integrated in – the lives of the underserved communities in which she wants to practice medicine after graduating from Johns Hopkins next year.
Spirituality, she said, has become divorced from everyday life in mainstream America but is still a big part of the communities where she wants to work. To improve health care in those communities and reach all the people who need medical services, the health care system has to reach out in unconventional ways, she said.
"The boundaries between secular and religious ideas are not as clear cut for most cultures outside the mainstream," Cobb said. "I'd like to look at alternative ways of approaching health care in the black community, for example, through religion."
One way to do that would be to work through local churches to establish a health ministry, where taking care of one's health would get a boost of spiritual backing.
Cobb, who grew up in Chicago, received her bachelor's degree in chemistry from Howard University in 1998.
While it's not unusual for medical school students to take a break in their medical studies to pursue other training, Cobb said most of her classmates who followed that route sought degrees in public health or law.
Harvard Divinity School was the right path for her, Cobb said, because it welcomed her unusual interdisciplinary approach, allowing her to take classes in different fields, such as anthropology and medicine.
"Academically, it's just been a privilege to be able to study in a place that appreciates interdisciplinary work," Cobb said. "That is just a tremendous opportunity for someone like me who is doing interdisciplinary work. … I feel like my ideas are appreciated here."
Among her divinity studies, Cobb studied slave religion. One of her lasting memories occurred during a religious service marking Black History Month in February. She led what's called a "ring shout," where dancers form a circle and sing. The ring, which has religious significance in several African traditions, took on its own significance in Andover Chapel that day, Cobb said, as everyone in attendance, regardless of their ethnic or religious background, participated.
"It was amazing to see everyone in the chapel in the ring shout. It was just wonderful for everyone to participate – black, white, Christian or not," Cobb said. "It was invigorating, rejuvenating. It renewed everyone's sense of community."