Daniel Steiner, who had a long and distinguished career as vice president and general counsel at Harvard University, and later became president of the New England Conservatory of Music, has died at age 72.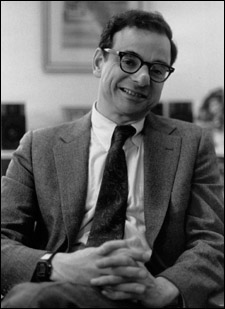 During his more than two-decade tenure at Harvard, Steiner built a highly regarded Office of the General Counsel to deal in-house with the multitude of legal issues that confront a major university.
"Dan Steiner was one of the wisest, most humane colleagues I have ever had," said Derek Bok, who served as University president from 1971 to 1991. "Both I and Harvard owe him an incalculable debt."
Steiner was appointed by President Nathan M. Pusey as Harvard's first general counsel in 1970, and was given the additional title of vice president in 1982 to reflect his additional administrative responsibilities. He stepped down from that post in 1992.
Born Aug. 6, 1933, Steiner received the A.B. degree magna cum laude from Harvard College in 1954. After spending a year at the University of London, he earned the LL.B. degree from Harvard Law School in 1958. Following service in the U.S. Air Force Reserve, he practiced law for five years in New York City.
Prior to returning to Harvard as general counsel, he worked in Washington, D.C., first as chief of legislative programs for the Agency for International Development in the State Department, then as general counsel and acting staff director for the U.S. Equal Employment Opportunity Commission. For his work at the commission he received the public administration award of the William A. Jump Memorial Foundation.
During his two decades as general counsel, Harvard's relationships with the federal government changed significantly, and there were important judicial decisions affecting higher education.
"A moment of particular meaning to me," Steiner said in a 1991 interview, "was when the Supreme Court quoted extensively from our brief in a case upholding the right of universities to take race and ethnicity into account as positive factors in reaching admissions decisions."
Steiner worked closely with the Governing Boards, the president, the deans of faculties, and other officers in responding to federal, state, and local issues, in adapting the governance of Harvard to changing times, and in developing new policies and procedures that significantly affected life at Harvard. These included relations between the University and industry, free speech, affirmative action, scientific misconduct, conflict of interest, sexual harassment, and shareholder responsibility.
After leaving the general counsel position, Steiner became an adjunct lecturer in public policy at the Kennedy School of Government from 1993 to 1996, and in 1997-98, he co-chaired the American Medical Association Task Force on Association/Corporate Relations.
In 2000, he became president of the New England Conservatory (NEC) after serving as an overseer, a member of the board of trustees, and for a year as acting president. He was the first non-musician to head the institution.
Under his leadership, NEC attracted many renowned teachers to its faculty and experienced a 70 percent rise in student applications. In 2003, he announced a $100 million capital campaign of which $72 million had been raised at the time of his death.
In addition to his wife, Prudence (Linder), he is survived by his children, Elizabeth Hayward of Oregon and Joshua L. Steiner of New York City; his brother, Henry; and several grandchildren.
Services were held at the Levine Chapels, 470 Harvard St., Brookline, Mass., on June 13. A private burial at Mount Auburn Cemetery followed. The family requests that flowers be omitted. Contributions may be made to the President's Fund, New England Conservatory of Music, 290 Huntington Ave., Boston, MA 02115.