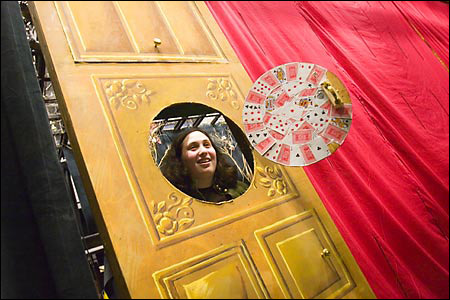 Melissa Goldman is passionate about set design. It's a subject to which she brings such infectious enthusiasm and obvious energy that even on a gray day, she can light up a "black box" – the empty hall of the Loeb Experimental Theater, venue for her latest production, "Alice in Wonderland."
And now her work in the theater at Harvard has brought her the prestigious Louis Sudler Prize from the University's Office for the Arts.
Goldman's involvement with set design at Harvard began even before freshman year was properly under way. During the Freshman Arts Program the week before orientation, she met Elizabeth "E.B." Little, an upperclass proctor, who took her under her wing, says Goldman, bringing her into the Gilbert & Sullivan Players and generally opening her eyes to the possibilities on campus.
Goldman arrived at Harvard with an extensive technical background from her work with the Braintree High School Theatre Guild. Her mother is an art teacher and her father a teacher of math. As their talented daughter sees it, architecture – of which set design is a subset – "is the nexus between those two."
Goldman had other learning experiences before college as well: a summer course at the Boston Architectural Center, and a six-week program on the history of architecture at the Harvard Graduate School of Design. "I loved staying up all night building models," she says.
She's never actually had a drawing class, though. As she was growing up, "there was no time for art classes, because I always had my music." Both her parents, however, were always taking classes and learning new things, she reports. So she's lived with the model of lifelong learning.
An accomplished cellist, Goldman played in the Mozart Society Orchestra as well as the pit orchestra for four different Gilbert & Sullivan productions during her time at Harvard.
Coming to her work with a depth of hands-on experience, she takes a very practical approach to set design: "You can design anything, but unless you know how it's going to be built, you don't know how it's going to look." Later she adds, "I like to design based on whom I'm working with."
At Harvard, Goldman's had the opportunity to work with some of the same people over and over again on productions, and that has enriched her experience. "I like to challenge the people I work with, especially when I keep working with them again and again. Every show brings a new challenge."
She adds, "Designers are best off to be overzealous. That's the way to learn."
Sometimes she's had to work under cost constraints, but it's obvious she's felt she's had good rapport with her directors. "I've worked with a lot of directors who have had respect for my designs [and my ability] to give them what they need," Goldman says.
Her design process starts with a close reading of the text of the play (this might be the moment to slip in reference to her concentration in English) and then a discussion with the director in which she asks, "What are some of the vignettes you're trying to convey?"
For example, she says, she worked on a 2004 production of "The Physicists" by Friedrich Dürenmatt on the Loeb Mainstage. The action of the play is dominated by an old woman. In designing the production, she was able to draw on something she'd just been studying in a course on Italian set design of the Renaissance and Baroque periods: forced perspective, which would focus attention on a single door on the back wall of a raked-stage set. When the door opened, and the old woman, backlit, entered, Goldman knew she had gotten the effect she was striving for. "I loved the idea of her shadow spilling across the stage," she says.
The Crimson review of the show called her work on the production "stunning."
Having had her fill of multiple scene changes while doing musicals in high school, she now prefers a single set but one that's kinetic, not static.
In another mainstage production for which she designed the set, "Lulu," the kinetic feature in the single set was a "couchlike thing," as she puts it, a sort of sectional sofa whose elements, over the course of the performance, are gradually pushed together so that they ultimately make a single rose.
Goldman's next big goal is to go to design school for architecture. She hopes to find a balance between designing buildings that are actually lived in, and the more imaginative world of stage design. She is attracted to the idea of "designing for worlds that are other than here." Stage designs "are temporary," she says, "and I like that."
Her ultimate dream: to be able to design both a theater and the sets for the productions onstage.