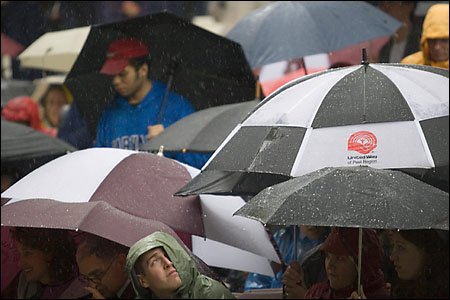 ---
Commencement slideshows, videos, stories, and transcripts
---
'Not a sorry one …'
"I feel pretty proud, pretty happy," said a smiling Richard Perry of Walnut Creek, Calif., who traveled to Cambridge, Mass., to see his son, Brian, receive his Ph.D. in mycology. Perry's joy soared above the soggy weather, and he suggested the same was true for other families. "It's moving to see all the parents out there with their umbrellas – they're getting soaked but they're so proud. There's not a sorry one in the crowd …"
The giant umbrella
After an informal and wildly unscientific survey of umbrella sizes in Tercentenary Theatre during Thursday morning's Commencement Exercises, the winner was a magnificent black and white umbrella, labeled with the name of golf equipment maker Titleist.
And magnificent it had to be.
Seven family members of Jean-Marc Monrad of Currier House, hailing from Boston, Montreal, and New Canaan, Conn., came up for Morning Exercises. The giant umbrella covered three of them comfortably in the morning rain – and a fourth not quite so comfortably.
Given the renowned competitive nature of Harvard students, it is perhaps fitting that the umbrella's actual owner was Monrad's cousin, Greg Schuman of New Canaan, who won it in a golf tournament. Schuman will be a freshman at Harvard next fall.
Turning over a new leaf – not
Sound travels better in moist air as anyone knows who makes a practice of singing in the shower, but the rain Thursday nearly put the kibosh on the Commencement Choir's glorious harmonies. The reason? Conductor Jameson Marvin's music got so wet that the pages wouldn't turn.
"I was worried for a while, but we finally got them dried out enough so that I could separate them," Marvin said.
Footgear fit for a duck
As Harvard undergraduates snaked their way into Tercentenary Theatre for Thursday morning's Commencement Exercises, poking out from under their gowns were the usual assortment of footwear, dress shoes, sneakers, sandals, and flip-flops. In a nod to the seeming unending rain that had plagued the area in recent days and which still fell Commencement morning, several students sported rubber boots.
Eye-catching rubber boots, it must be said: bright yellow, hot pink, wildly multicolored stripes, and paisley. For Jessica Schumer, a social studies concentrator from Mather House, though, only flowers would do. Schumer wore rubber boots with green, pink, and pale blue flowers on them.
"I got them yesterday; they were the last pair," Schumer said, adding that her mother and grandmother also bought boots. "Grandma got black, she couldn't take the flowers."
Michael Ricca, a staff assistant in the Office of Human Resources, who served as a marshal's aid during Morning Exercises, had his own opinions about proper footwear: "It was fun, despite the rain. It was very nice to see the students parade by. Many of them had flip-flops on, which I didn't approve of, but it was really fun."
Is that umbrella getting a diploma?
Nancy Montgomery flew in from Illinois to watch her son, Jim, graduate from the midcareer program at the John F. Kennedy School of Government. Happily dry under the tent in JFK Park erected for the School's degree-granting ceremony, Montgomery said she didn't mind the rain during the Morning Exercises, though she did head back to the Kennedy School about halfway through to watch from the drier venue of the JFK Jr. Forum. Even without the rain, however, she said the view was better from indoors.
"Because of all the umbrellas, we couldn't even see the stage," Montgomery said.
And the 'best prop' award goes to …
Graduates traditionally put on a demonstration when having their degrees conferred during the Morning Exercises. School of Public Health graduates this year waved – and tossed – small rubber chickens, which left an onlooker puzzled until a student explained that they represent avian flu, from which the graduates will be charged to protect the rest of us.
Other props included gavels for the Law School, orange construction tape for degree candidates from the Graduate School of Design, and ace bandages for soon-to-be doctors graduating from Harvard Medical School.
A rare caper
"It's damp – I can say that without fear of contradiction," commented Ron Newburgh '46 of Commencement 2006. But Newburgh's enthusiasm was anything but damp, having experienced what he believes was a rare caper that very morning.
"Since our class was setting up for a cocktail party in Hollis, a few of us drove over with all the goodies," he explained to several acquaintances, including classmate Bennett Miller, gathered on a path in the Old Yard. "I actually drove into the Yard this morning. On Commencement Day! With an automobile! And we unloaded the car and then I drove out. I know of no one else who has ever achieved that. It may have happened before, but no one I know of has ever driven in the Yard on Commencement morning."
Oh six!
Graduating seniors from Harvard College gained an extra member at the last minute. Harvard President Lawrence H. Summers, who leaves Harvard's presidency this year, dubbed himself a member of the Class of '06. Students apparently embraced Summers' classmate status Thursday, breaking into chants of "Larry! Larry! Larry!" as Summers conferred their bachelor's degrees. Summers returned the love, ending with, "Congratulations, fellow members of the Class of '06."
'Saluting the girls from Radcliffe'
"I haven't been back in 10 years, and everyone's gotten older except me!" observed Bill Dubey '46, who traveled from New Mexico to join in alumni festivities. Though he's seen several Harvard commencements over the years, Dubey says he still gets a lump in his throat when he sees all the pomp and circumstance.
"Because our class was a war class, we missed all of this," he said. "I never went to my own graduation."
Even so, Dubey holds fond memories of his Harvard years, which were punctuated by Naval officer training and on-campus military drills.
"Being an ensign [on campus] was pretty good," he said. "I used to march the company to our classes, which were up near the Law School. On the way, I used to have the guys salute the girls from Radcliffe. That was fun."
'Back from the wilderness …'
Getting a Ph.D. can be a long slog. One of the longest came to an end on June 8 when David Dutcher climbed onto the stage to receive his doctoral degree.
According to his dissertation adviser Professor of Japanese Literature Edwin Cranston, Dutcher, now 62, arrived at Harvard in 1977 as a graduate student in East Asian Languages and Literatures. He finished his course work and part of his dissertation, a translation of a chapter from an 11th century Japanese narrative called "The Tale of Sagormo," but somehow got bogged down working on the introduction and notes.
Time dragged on and the dissertation remained incomplete. Meanwhile, Dutcher moved to Japan where he worked as a writer, researcher, and translator and raised a family. He and Cranston stayed in touch, but as far as the department was concerned, Dutcher was "lost in the wilderness," a scholarly casualty.
"I had no idea that he would ever finish," Cranston said. "Then last October I got this astonishing e-mail message saying that he expected to have it done by June."
Cranston learned that the crucial factor had been an act of generosity by another of Dutcher's loyal supporters, a teacher from his undergraduate days at the University of Hawaii. Suffering from terminal cancer, she sent Dutcher a check for $20,000, urging him to concentrate on his dissertation and finish it while she was still alive.
"He came back from the wilderness," said Cranston. "He got this thing done, and it's a fine piece of work. When he got up on the stage of Sanders, everyone cheered. It was a really big, wonderful, emotional thing."
Eavesdropping
Overheard in a tent in the Old Yard, where two strangers had taken refuge before the Morning Procession:
"Are we going to have to move from here?"
"Yeah."
"You mean I can't take the tent with me?"
* * *
"It's the clear plastic look!"
– Overheard as someone hands out rain ponchos to the assembled graduates in the Old Yard.
* * *
"The rain echoes my soul. I feel very melancholy."
– Theodore Bressman, waiting with his Dunster House classmates to file into Tercentenary Theatre, on his sadness at leaving Harvard.
* * *
"After this degree, she's on her own. I'm done!"
– Overheard from a father dodging puddles in Tercentenary Theatre.
– Ken Gewertz, Margie Kelley, Alvin Powell