With the goals of making Harvard the leading center of Chinese studies in the United States, supporting China-related activities University-wide, and supporting University activities in China, Provost Steven E. Hyman has announced the launch of the Harvard China Fund (HCF), to begin operation July 1. William C. Kirby, currently dean of the Faculty of Arts and Sciences (FAS), and incoming director of Harvard's John King Fairbank Center for East Asian Research, will serve as chairman of the fund.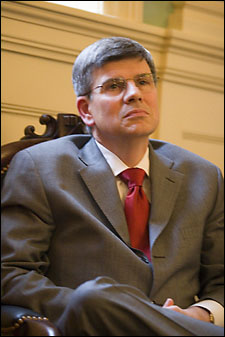 "For Harvard to remain a global leader in teaching and research, it is essential that the University continue to engage internationally and to maintain a significant and vibrant presence outside of the United States," said Hyman. "The Harvard China Fund will help to solidify Harvard's pre-eminence in the study of modern and contemporary China."
"Harvard is already strong in many areas of China studies, from our early partnership with the Harvard-Yenching Institute, to our more recent creation of the Asia Center, and I believe we can be stronger still, and across the entire University," Kirby said. "As the University extends its work in international studies, and indeed as an international university, there is, arguably, no more important realm for our study and activity than China. We would be remiss if we, as an institution, did not find new and creative ways to work with China's leading scholars and students, and to create opportunities for our own faculty and students to study, teach, and learn in one of the most dynamic societies on Earth."
Kirby said the work of HCF would proceed in consultation with colleagues across the University, in concert with, and in support of, the work of the University's Asia Center. He said that in achieving the fund's first aim – to strengthen Harvard's leadership in the study of China – he anticipated a significant new program of grants across the University, partnering with schools and programs in selected areas, and bringing scholars involved in the study of China from several Harvard faculties to the new Center for Government and International Studies. Second, he anticipated that a major aim of the initiative would be to support undergraduate and graduate student research and study in China, and to promote research collaborations with Chinese partners.
A third and important aim, Kirby said, would be to explore the establishment of a physical presence in China "to promote the University's academic objectives, assist faculty and students in China, and to serve as convening place for Harvard activities."
Kirby, the Edith and Benjamin Geisinger Professor of History, is a distinguished historian of modern China. His work examines China's economic and political development in an international context. He holds visiting professorships at Peking University and Nanjing University. Earlier this year, he announced that he will step down as dean of FAS and become director of the Fairbank Center, which has the study of China as its central focus.