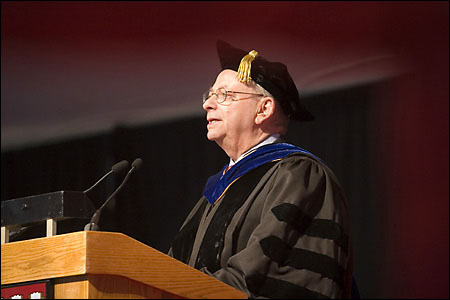 ---
Read a full transcript of Gerberding's speech
---
"You can open doors; people will listen to you because you are a Harvard graduate. You will have access to leaders and opportunities to change things in ways that many, many people across this country could only dream of," said Gerberding as she delivered the School's Commencement address on June 8 in the Kresge Courtyard.
"But you do have some big challenges," she added, namely, developing collaborations, building public health capacity, and – perhaps most difficult – avoiding the kind of complacency that abetted the destruction of New Orleans by Hurricane Katrina.
HSPH Dean Barry Bloom echoed Gerberding's concerns and noted in introducing the speaker that the CDC experienced its first budget cut in 25 years in 2006. More cuts have been proposed for fiscal year 2007.
"Avian influenza [and] biodefense preparedness are clearly entirely appropriate and high priorities," said Bloom. "But we are radically underfunding and otherwise neglecting what one would have to call 'urgent realities.' We continue to emphasize disease treatment and in particular the increased financing of treatment, while we tend to overlook and underfund the principal focus of public health – disease prevention, promoting health, and protecting the public.
"We cannot forget the time wasted in the early years of the HIV epidemic resulting from our failure to address the problem with a full arsenal of weapons available – policy changes, traditional public health measures, funding – that now seems so shortsighted and tragic," Bloom added, "Will we be saying the same 25 or 50 years from now about our inattention to obesity, preventable diabetes, and cardiovascular disease and injury? We need your voices to champion the value of what CDC and we all in public health do and strive to do for the American public and the people of this world."
Gerberding described how health can be promoted through technology and communication. Referencing columnist Thomas Friedman's book "The World Is Flat," she pointed out that advances such as the Internet, blogs, Blackberries, and Google have provided an unprecedented global connectedness.
Yet, there are huge disconnects around the world in how people experience public health – an "unflatness" or lack of global connectedness, she said. In the United States, African Americans face a 30 percent greater risk of death among people with cardiovascular disease. Approximately 1,400 premature babies are born each day in the country because of a lack of prenatal care and maternal nutrition. Around the world, 5,500 people die of tuberculosis each day, and 8,200 people die of HIV infection. Forty-two million people go without clean water on a daily basis.
"Our mission is to really try and use the communication and technology tools that we have to enable the 'flat world,' and apply them to protect and improve the health of the whole world," said Gerberding. "We need to achieve our common vision, that vision of the best possible quality of health for everyone, and especially people who are vulnerable to health disparities across their entire life span, wherever they are."
– HSPH Office of Communications