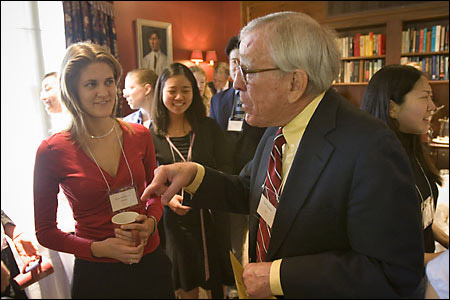 For the past 13 years, the Weissman International Internship Program has provided more than 250 sophomores and juniors with the opportunity to participate in an international internship in a field of work related to their academic and career goals.
The Weissman Program, established by Paul '52 and Harriet Weissman in 1994, enables students to develop a richer understanding of the global community in which they live and work, and provides an opportunity for them to share their experiences with the Harvard community when they return.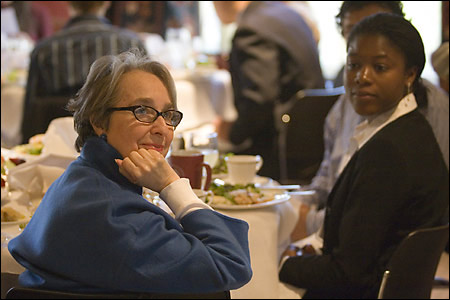 This year's 39 Weissman Interns will work in a wide range of private and public organizations in business, education, the environment, government, health and medicine, law, media, public service, science, and urban planning. Four of the 19 countries that the interns will visit this year are new destinations for the Weissman Program: Egypt, Guatemala, Rwanda, and the United Arab Emirates.
The 2006 Weissman International Internship Program recipients are Jennifer Arcila '08, Anastasiya Batrachenko '07, Matthew Bosch '07, Nina Catalano '08, Serene Chen '08, Deanna Dong '08, Marisa Flavin '07, Kevin (Wei) Gan '07, Julian Gingold '07, Alexandra Gutierrez '08, Alicia Harley '08, Edward Henry '07, Rafael John Hines '08, Miriam Hinman '08, Xuan Huong Hoang '08, Robert Huang '07, Albert Kao '07, Victoria Kim '07, Nina Kouyoumdji '08, Ohkyung Kwon '07, Hisham Mabrook '08, Ayah Mahgoub '07, Steven McDonald '08, Irina Mladenova '08, Oluwarotimi Okunade '07, Joanna Parga '07, Lucas Paul '08, Deena Shakir '08, Caroline Sloan '07, Anna Swenson '08, Andy (Jianhua) Tau '07, Stephanie Teng '08, Ryan Thoreson '07, Anton Troianovski '08, Catherine Vaughan '08, Jennifer Wu '07, Michelle Wu '07, Amy Xu '07, and Jessica Yang '08.
The Weissman International Internship Program is administered by the International Experience Program (IEP) at the Office of Career Services. Information meetings for interested students are held in the fall, and applications are due in early February.
For more information about the Weissman Program, contact the IEP office at (617) 495-3530.