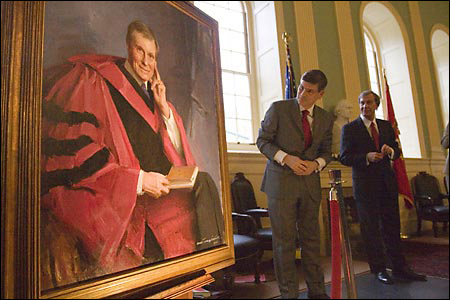 Neil L. Rudenstine, Harvard president emeritus, sat in his glowing crimson robes, a book on his lap, a look of bemused and benevolent inquiry animating his face.
The crowd of professors, administrators, and other members of the Harvard community who had been awaiting the unveiling of this latest addition to the Faculty Room portrait gallery greeted the painting with a warm and enthusiastic ovation.
Meanwhile, the real Neil Rudenstine, dressed in a dark pin-striped suit, stepped to the podium.
"I don't think I've ever gotten so much applause for having done so little," he said.
The event took place May 1 in University Hall in the grand, high-ceilinged room that once served as a chapel and now hosts meetings of the Harvard faculty. Music by a string quartet and a choral fanfare by the Harvard-Radcliffe Collegium Musicum set the mood while drinks were served and waitpersons roamed the floor with platters of hors d'oeuvres.
Preceding the unveiling, a succession of speakers gave their impressions of the man who had led the University from 1991 to 2001.
William C. Kirby, dean of the Faculty of Arts and Sciences and Geisinger Professor of History, said that Rudenstine was "passionate above all about the pursuit of knowledge," but that his passion was "accompanied by understanding, grace, and a remarkable generosity of spirit."
Drew Gilpin Faust, dean of the Radcliffe Institute for Advanced Study and Lincoln Professor of History, called Rudenstine "a man who is profoundly about words." Enlarging on that theme, she mentioned humanity, diversity, and learning as the words that best characterized him as a scholar, an administrator, and as a person.
The Rev. Professor Peter J. Gomes, the Plummer Professor of Christian Morals and Pusey Minister in the Memorial Church, echoed Kirby when he named generosity the key ingredient of Rudenstine's character.
"We were all made richer by his generosity of spirit. He was aware, he noticed, he cared," Gomes said.
Standing beside his crimson-robed image, the work of well-known portrait painter Everett Raymond Kinstler, Rudenstine spoke of the feelings evoked by this gesture of recognition.
"It is very difficult to imagine that I could be any happier than I am right now," he said.
Rudenstine, who now serves as chairman of the board of ARTstor at the Andrew W. Mellon Foundation, said that in his long experience in higher education, he had never encountered another institution that was the equal of Harvard.
"Why is that? It has to do with the fact that people here won't settle for less than the best. There's an absolute determination to make sure every single part is as good as it's possible to be. And if you have that for 10 years, what more can you possibly ask for?"