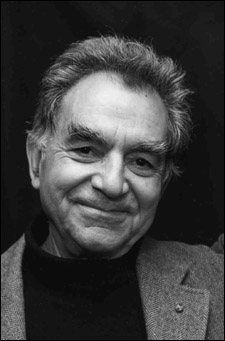 Dimitri Hadzi, a sculptor whose enigmatic, brooding works can be found in museums and public spaces around the world, died April 16 in Boston. He was 85.
Hadzi was professor of visual and environmental studies (VES) emeritus. He first came to Harvard in 1975 as a visiting lecturer, remaining on the faculty until his retirement in 1989. Until shortly before his death he was still working busily in his studio in East Cambridge and left many artworks in various stages of completion.
Born in Manhattan's Greenwich Village to Greek immigrant parents, Hadzi grew up in Brooklyn. His father, a furrier, lost his business after the stock market crash of 1929, and the family was plunged into poverty. As a boy Hadzi displayed a talent for art, but studied chemistry at Brooklyn Technical High School and worked in a research lab after graduation. His interest in art continued, however, and after serving in the Air Force during World War II, he and a friend hitchhiked from California to New York, visiting art museums along the way.
On a lark, Hadzi took the entrance exam to Cooper Union and was admitted. After graduating with honors in 1950, he studied in Athens and Rome, making his home in Italy for the next 25 years.
As an artist, Hadzi is best known for his monumental, abstract or semi-abstract sculptures. One of them, "Omphalos," constructed from slabs of gray and red granite, stands near Out of Town News in Harvard Square. His bronze sculpture "Thermopylae" occupies a place outside the John F. Kennedy Federal Building in Boston. His 60-foot-tall stone "Fountain" soothes visitors to the Copley Place Mall, and his bronze "Elmo" stands guard at the Massachusetts Institute of Technology.
Hadzi's work can also be found in the Museum of Modern Art, the Whitney Museum, the Guggenheim Museum, the Hirshhorn Museum and Sculpture Garden in Washington, D.C., the Museum of Fine Arts, Boston, and many other institutions.
Hadzi was the recipient of a Fulbright Fellowship, a Guggenheim Foundation Fellowship, the Louis Comfort Tiffany Award, and the St. Gaudens Award from Cooper Union. He was a fellow of the American Academy of Arts and Sciences and the American Academy of Arts and Letters, and a member of the National Academy. He represented the United States at the Venice Biennales in 1956, 1958, and 1962.
He leaves his wife, the former Cynthia Hoyle von Thuna, and two children from his first marriage to Martha Leeb, Cristina of New York City, and Stephen of Holyoke, Mass. His sister Rebecca Mastropasqua lives in Brooklyn. A memorial service is planned for the fall.