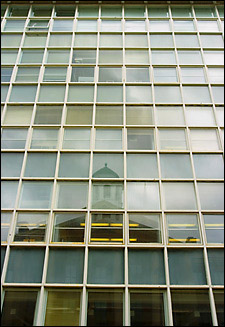 Harvard University announced a proposal to transform its Division of Engineering and Applied Sciences (DEAS) into the Harvard School of Engineering and Applied Sciences within the Faculty of Arts and Sciences (FAS).
"DEAS has made tremendous strides under the leadership of Venky Narayanamurti," says Harvard Provost Steven E. Hyman. "Continued progress is needed, however, if we are to serve the growing needs of our students, provide desired collaborators for our faculty within the sciences and professional schools, and achieve the levels of excellence and national recognition that are consistent with our other academic efforts. A consensus has been reached that such progress will be markedly enhanced by an evolutionary step that awards greater independence to Harvard's engineering programs."
Venkatesh Narayanamurti, John A. and Elizabeth S. Armstrong Professor of Engineering and Applied Sciences, dean of the Division of Engineering and Applied Sciences and dean of Physical Sciences, who had earlier announced his intention to step down on June 30 after eight years as DEAS dean, has agreed to stay on to guide the transition.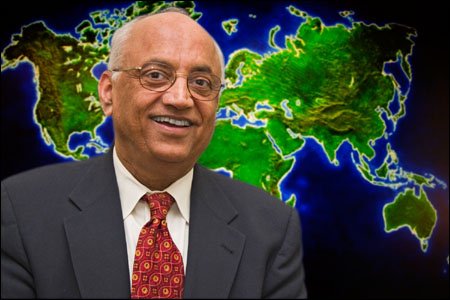 "In his eight energetic years at Harvard, Dean Venky has fostered a real renaissance in engineering and the applied sciences," said William C. Kirby, Edith and Benjamin Geisinger Professor of History and dean of the Faculty of Arts and Sciences. "He has forged productive new relationships between DEAS and other Schools and departments across Harvard; indeed, his leadership has brought excitement to University-wide planning and progress in the sciences. He has done much for Harvard, and by agreeing to spearhead the planning necessary to move towards the Harvard School of Engineering and Applied Sciences, he will continue to contribute mightily to this university's strength and vitality."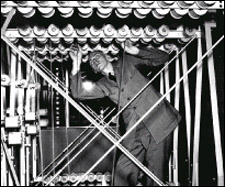 • View a DEAS timeline (Graphic by Georgia Bellas/Harvard News Office)
• DEAS Web site
The renaming, which will be presented for formal approval in the autumn, would have the Harvard School of Engineering and Applied Sciences function as a "school within a school." It would maintain close academic connections with other parts of FAS and educate undergraduates within Harvard College, as it does today. The elevation of DEAS to a school will raise the prominence of the program both within the University and nationally.
"Harvard's formation of a School of Engineering and Applied Sciences within the Faculty of Arts and Sciences is an important event for the University," said President Lawrence H. Summers. "It marks our recognition of the profound importance of technology and applied sciences for every aspect of our society. It makes visible our commitment to major new resources and faculty positions in this vital area, and our dedication to educating a new generation of technologically literate students. This announcement represents the culmination of a great deal of thought and planning by many people, for which the University community is profoundly grateful."
In order to provide adequate coverage of modern engineering and applied science for students and to be in the vanguard of emerging research areas, the School plans to increase the University's engineering and applied sciences faculty by about 50 percent in the coming years.
The move toward the School will be greatly facilitated by DEAS's substantial growth and evolution under Narayanamurti's leadership. Research has been enhanced through the recruitment of world-class faculty members in a number of areas, strengthening of research facilities, and new staff support in grants and contracts, communications, information technology, and development. Graduate student recruitment, selection, and yield have improved significantly. In addition, academic programs in areas such as applied mathematics, computer science, electrical engineering, and bioengineering have been augmented.
"I am very pleased by this important step forward," said incoming interim President Derek Bok. "It recognizes the successful work already done to strengthen the study of engineering at Harvard as well as the further progress that is yet to come."
As part of this transition, and in order to be in the vanguard of research and teaching in engineering and applied science, the Harvard School of Engineering and Applied Sciences would recruit dozens of new faculty in the coming years: DEAS currently has approximately 70 faculty members, but full development of a world-class school is expected to require a critical mass of some 100 faculty members. While part of this proposed expansion is already in the FAS's growth plans, further joint appointments are anticipated with other Harvard Schools. In a nod to DEAS's notably open and collaborative environment, there are no plans to divide the School into academic departments despite this faculty expansion.
"I am deeply honored by the trust placed in me by the University and the wonderful support I have received from DEAS colleagues. I am looking forward to serving the faculty as we move towards becoming a school," says Narayanamurti. "I see the Harvard School of Engineering and Applied Sciences as continuing to foster scientific advances, discovery, and technological innovation, while addressing major societal issues such as human health, energy, and the environment. It also will be wellpositioned to play a leading role in broadening the education of engineers and providing all Harvard students an exposure to various aspects of technology and its role in society."