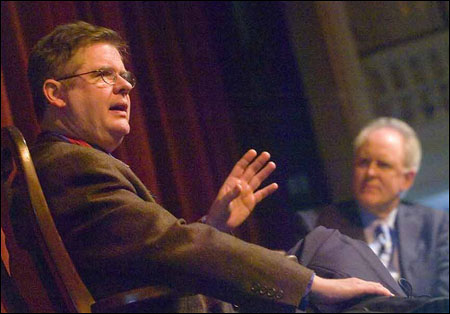 Christopher Durang '71, this year's recipient of the Harvard Arts Medal, wrote his first play – an episode of "I Love Lucy" – at age 8.
The two-page script might have been relegated to a family scrapbook along with birthday photos, report cards, and handmade valentines, were it not for the efforts of Durang's mother, who brought the play to the attention of his teacher and urged that it be put on. It was, and Durang had his first experience of hearing his words recited on stage.
Durang revealed this bit of early biography during a conversation with John Lithgow '67, master of the arts at Harvard. The dialogue took place May 5 on the stage of Agassiz Theatre following the presentation of the medal by Harvard President Lawrence H. Summers. The presentation of the Arts Medal is one of the principal events of Arts First, the annual festival of student art-making.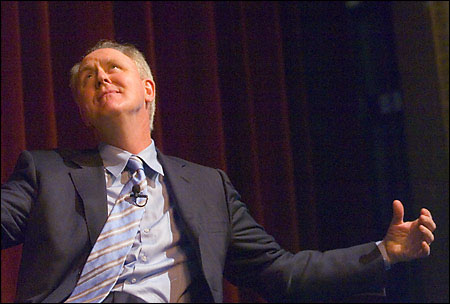 Durang is the 11th Harvard alumnus to receive the award, and, as Lithgow pointed out, the first playwright. He is also the first medalist with whom Lithgow himself has worked. In 1982, Lithgow played Bruce in Durang's Broadway production of "Beyond Therapy."
For those who enjoy the anarchic and absurd, and harbor a secret contempt for the boundaries of good taste, Durang's works have much to offer. From his first professional production, "The Idiots Karamazov," which premiered in 1974, starring fellow Yale Drama School student Meryl Streep, to his most recent full-length play, "Miss Witherspoon" (2006), Durang has specialized in dismembering sacred icons in a way that might be described as savage if it were not accomplished with liberating hilarity.
In response to a question by Lithgow about whether he enjoys scandalizing people, Durang replied that he rarely anticipates such a response to his work and is often surprised by it. As a Harvard student, for example, he wrote a play called "The Greatest Musical Ever Sung," featuring the song "Everything's Coming up Moses." The production prompted a Crimson reviewer to describe Durang as "a pig trampling in a sanctuary."
Durang took on religion again in what may be his best-known and most controversial play, "Sister Mary Ignatius Explains It All For You," which premiered in 1979 in New York City. In this play, Durang, himself the product of a Roman Catholic education, presents the ultimate face-off between faith and reason in the form of a violent confrontation between the authoritarian nun of the title and her rebellious former students.
Durang said he was disturbed by the many protests inspired by the play, particularly those in which funding for the arts was brought into question. He said that in St. Louis, where protestors tried to shut the production down, "Someone tried to pass a law that no play that offended any ethnic or religious group could ever receive government funding."
A prolific writer, Durang has written many full-length and one-act plays, including "A History of the American Film," "Baby With the Bathwater," "The Marriage of Bette and Boo," "Laughing Wild," "Sex and Longing," "Betty's Summer Vacation," "For Whom the Southern Belle Tolls," and "Mrs. Bob Cratchit's Wild Christmas Binge."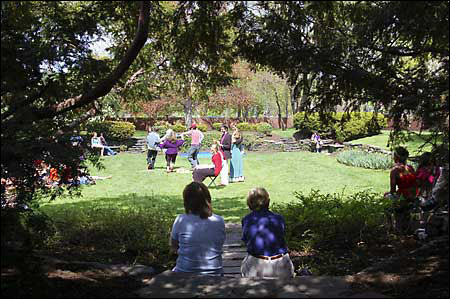 Despite his reputation as a provocateur, Durang in person hardly seemed to fit the role. Short (especially next to the 6-foot-4-inch Lithgow) and boyish-looking for his 57 years, he displayed a sense of modesty, even shyness, as if he could not quite comprehend why an audience of 300-odd people would be interested in what he had to say.
Durang's disinclination to be the center of attention was highlighted by Lithgow, who remarked that while rehearsing "Beyond Therapy" the playwright often seemed like a backstage visitor delighted to be admitted to the proceedings.
"Yes, I do like the collaborative process," Durang said. "I like actors, and I have an almost embarrassing ability to laugh at my own work. In rehearsals I'll laugh my head off, but by about the third week I just can't laugh any more. I've learned that I have to warn the actors about that. Otherwise they'll think, oh, he doesn't like it anymore."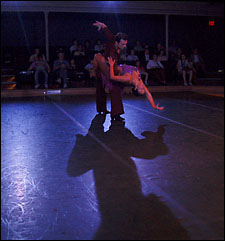 In addition to playwriting, Durang has enjoyed a successful side-career as an actor, both on the stage and in films. After a frustrating experience at Harvard ("I never got cast in anything – at least it felt that way"), Durang began adding to his actor's resume at Yale, beginning with a role as fellow student Sigourney Weaver's brother. He has appeared in small character roles in such films as "The Secret of My Success," "Mr. North," "The Butcher's Wife," "Housesitter," "The Cowboy Way," and "Simply Irresistible."
Durang has also written for the movies and for TV. While he did not speak of that work with the same warmth and enthusiasm as his involvement with the theater, he did mention that it helped pay the bills. Making a living in the theater can be problematic, he said, quoting the playwright Robert Anderson, the author of "Tea and Sympathy," who remarked, "You can make a killing in the theater, but you can't make a living."
The lack of financial support for a theatrical career can be discouraging, he said, but he stopped short of advising young people with inclinations toward the theater to seek a different career.
"I'm very glad I tried it when I was in my 20s," he said. "I think it's good to try what you're really drawn to."