Kathleen McCartney, Gerald S. Lesser Professor in Early Childhood Development, will be the next dean of the Harvard Graduate School of Education, Harvard President Lawrence H. Summers announced Tuesday (May 16).
"Kathleen McCartney is an outstanding scholar and researcher who has emerged this year as a highly effective leader with bold ambitions for the School," said Summers. "Education is a pressing issue of national and international concern, and Harvard University, led by the Graduate School of Education, has a critically important role to play in shaping the debate, advancing the research agenda, and engaging with practice at a variety of levels. I have every confidence that Kathy McCartney will continue to build quality and rigor in the School while pushing forward this very important agenda. I am delighted that she has agreed to serve as dean."
McCartney has served as acting dean of the School since July 2005. A leading scholar in early childhood education, her research focuses on the interplay among child care, parenting, and poverty. She has been a member of the Graduate School of Education faculty since 2000 and served as academic dean during the 2004-2005 academic year. McCartney will assume her new duties immediately.
"I am honored to serve as dean during this important time in the history of the Harvard Graduate School of Education," McCartney said. "I greatly appreciate the support President Summers has given me over the past year, and I am grateful for the confidence he and incoming President [Derek] Bok have shown by appointing me to this role.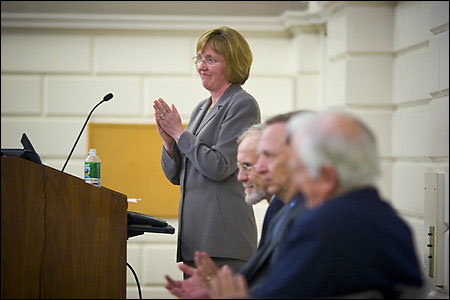 "Working this year with faculty, staff, and students to move the School forward on a variety of fronts has been one of the most rewarding experiences of my professional career," continued McCartney. "This is a strong community, united in the belief that education is the single most important ingredient for a just society. Together we can now look forward to further developing and implementing our academic plan, appointing outstanding faculty, and improving the educational experience of our students."
"It is a great pleasure to know that the Graduate School of Education is in such good hands as I approach my service as interim president this summer," said Bok, who will take office on July 1, 2006. "Larry Summers has made clear throughout his tenure that education is an important priority for the nation and for Harvard. I share this view and look forward to supporting a robust agenda at the School over the coming year."
As acting dean, McCartney has overseen a comprehensive academic planning process to guide the long-range direction of the School. She has also worked over the past year to strengthen the administrative and financial base of the School, to increase financial aid and fellowships for masters and doctoral students, to establish a Center on Children in collaboration with the Harvard School of Public Health, and to launch the Ed School's first professional education program for early childhood educators.
McCartney has published numerous journal articles across several disciplines and teaches courses on early childhood development. McCartney and Deborah Phillips, a child development psychologist from Georgetown University, edited "The Handbook of Early Childhood Development," which was recently published by Blackwell.
McCartney's other research projects include the "The NICHD Study of Early Child Care and Youth Development, National Institute of Child Health and Human Development" (1989-2007); "The Social Ecology of After-School Care, National Institute of Child Health and Human Development" (1993-1997); and "How Children Make Their Own Language Environments, National Institutes of Mental Health" (1987-1988). McCartney and her colleagues from the NICHD Early Child Care Research Network summarized their findings in a 2005 book, "Child Care and Child Development," published by Guilford Press.
McCartney, a native of Medford, Mass., received her bachelor's degree summa cum laude from Tufts University, and her M.S. and Ph.D. degrees in psychology from Yale University. While at Yale, she was a fellow at the Bush Center in Child Development and Social Policy. From 1982 to 1987, she served as an assistant professor in the psychology department of Harvard's Faculty of Arts and Sciences. Subsequently, she joined the faculty of the University of New Hampshire, where she served as the director of the Child Study & Development Center.
She has served on the editorial board of the journals Child Development and Developmental Psychology and is a fellow of the American Psychological Society. She has also been a visiting research scholar at the Center for Research on Women at Wellesley College.
McCartney lives in Cambridge, Mass., with her husband William Hagen, who teaches English at Maimonides School in Brookline, Mass. They are the parents of four grown children – Pres, Sam, Kaitlin, and Kimberly.