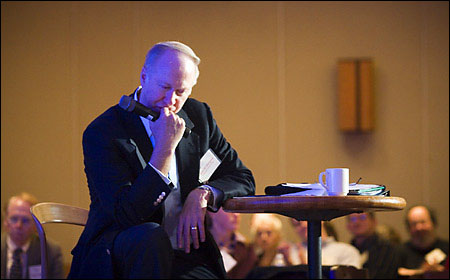 What makes a good leader? Are leaders born or made? Which is the more important guide for a leader, the head or the heart?
These are difficult questions, but if there was ever a forum to inspire confidence that meaningful answers might be forthcoming, it was the one that gathered May 11 at the Charles Hotel in Cambridge, Mass.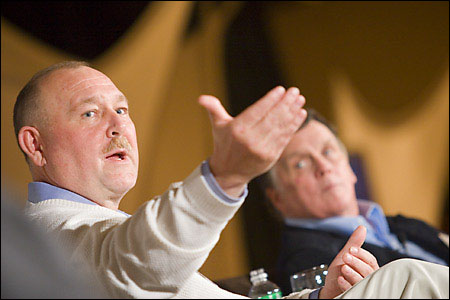 The participants in this conference, "Growing Leaders in a Changing World," jointly sponsored by the Kennedy School of Government's Center for Public Leadership and U.S. News and World Report, included noted management scholars, authors of best-selling books on the art and science of leadership, and well-known leaders from business, academia, and the military.
The conference was also a tribute to Warren Bennis, regarded as a pioneer in the field of leadership studies. Bennis, who was on hand to offer commentary on the proceedings, has taught at Boston University, Massachusetts Institute of Technology, and Harvard; served as president of the University of Cincinnati; and written such influential works as "Becoming a Leader" and "An Invented Life."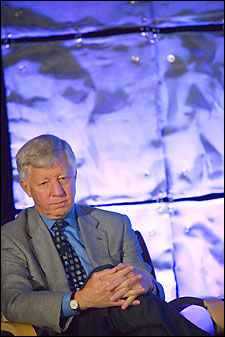 At the third and last session of the day, moderated by David Gergen, professor of public service and director of the Center for Public Leadership at the Kennedy School, many of the panel members offered succinct summaries of what they considered the most important aspects of effective leadership.
Sidney Harman, co-founder of the audio components company Harman Kardon (now Harman International), advised aspiring leaders to learn something about the world outside their own sphere, develop a critical philosophy and apply it to all their decisions, refrain from making changes just for the sake of change, and "before changing the world, focus on yourself."
William George, professor of management practice at Harvard Business School and former chairman and CEO of Medtronic Inc., criticized the "great man" notion of leadership.
"In business, you need thousands of leaders everywhere," he said. "Leading is not about people following you. It's about empowering others to step up and lead."
George also said that leadership ability must be built on one's early formative experiences, that becoming a leader requires being true to who you are.
"If we can develop ourselves, we can empower others," he said.
Spencer Johnson, co-author of the phenomenally popular book on coping with change, "Who Moved My Cheese?," said that "leaders are so criticized today that people are afraid of standing up and leading."
Johnson's solution to this dilemma is for leaders to cultivate a greater regard for the truth.
"The biggest thing missing in the process of growing leaders is regard for the truth. What if we became more curious about the truth, if we trusted the truth? I think that if you can tell yourself the truth, you become more humble, and if that happens, people will have greater respect for leaders."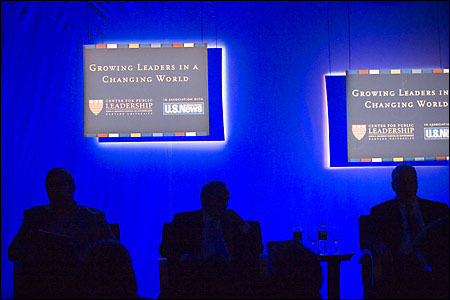 Vice Adm. Thad Allen, chief of staff of the U.S. Coast Guard and one of the few early responders to the Hurricane Katrina disaster to win praise for his actions, said that one of the keys to the success of the Coast Guard's rescue mission was the ability of the men and women at all levels to act independently.
"It's the ability to act when you need to act," he said. "The rescues in New Orleans were not ordered by those above. In an emergency situation, you're not always going to be in contact with the chain of command."
He also said that one of the characteristics of a good leader is being able to "speak truth to power." One question he always asks of those serving under him is, "Are you going to be able to tell me things I don't want to hear?"
Robert Sternberg, dean of the school of arts and sciences at Tufts University, said that he is presently engaged in reorganizing the school around the notion that the purpose of education is to develop leaders. One way he hopes to do this is to get away from assessing students' knowledge through multiple-choice exams ("in life, they don't even give you the questions, much less the answers") and instead to use writing exercises to test problem-solving abilities.
He said that using this method has doubled the accuracy of predictions of student performance as well as significantly reduced differences in performance based on ethnic background.
Richard Hackman, the Edgar Pierce Professor of Social and Organization Psychology at Harvard, said that while he didn't think leadership could be taught, leadership ability can be cultivated by exposing students to the right sorts of experiences. Precisely what those experiences are has not yet been determined, but Hackman had a few guidelines to offer.
"First, you've got to be there. If you're excluded, it's not going to happen. Second, you have to have a safe environment with guard rails. And, third, you've got to have some crucible experiences, but at the same time there has to be a degree of safety."
Bennis summed things up by enumerating a list of questions aspiring leaders should ask themselves.
"First, do you really want to be one? Second, do you know what brings you happiness, and does that match what you're trying to do? Third, do you know how to learn? Fourth, do you have the discipline to carry through with your plans? And fifth, do you know that you can never do it alone?"
Bennis ended by quoting from the 17th century French writer Roger de Rabutin, Comte de Bussy:
"We are all angels with only one wing. We can fly only when we embrace each other."
Related links: