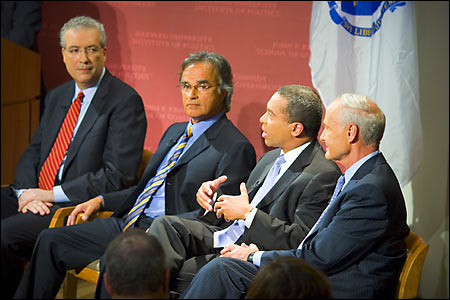 Four Massachusetts gubernatorial candidates laid out plans for tax cuts, local aid hikes, and economic revitalization during a policy-focused debate televised live from the John F. Kennedy School of Government (KSG) on May 18.
The event, which focused on the economy, jobs, and the cost of living, featured few fireworks. Candidates touted their own positions and qualifications for the governor's office rather than attacking each other. Participants did take shots, however, at incumbent Republican Gov. Mitt Romney and Lt. Gov. Kerry Healey. Healey has secured the Republican gubernatorial nomination, but declined an invitation to attend.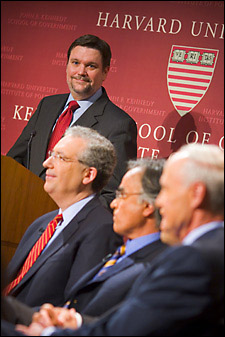 The event, before about 800 in the John F. Kennedy Jr. Forum, included Democrats Chris Gabrieli, a businessman and the party's 2002 lieutenant governor candidate, Massachusetts Attorney General Tom Reilly, attorney Deval Patrick, who served as assistant attorney general for civil rights in the Clinton administration, and independent candidate Christy Mihos, a businessman and founder of the Christy's Markets chain.
The event was introduced by Kennedy School Dean David Ellwood and hosted by NECN anchor R.D. Sahl. It aired live on NECN and on WBUR radio, and was sponsored by the Kennedy School's Institute of Politics, NECN, WBUR, the Boston Globe, and MassINC.
The hour-long event gave the candidates ample opportunity to introduce themselves to voters at a fairly early point in the 2006 election season. State Democrats will choose among Gabrieli, Reilly, and Patrick next month to see who will carry the party's banner in the general election. The Democratic state convention, where the candidate will be chosen, is scheduled for June 2-3 in Worcester.
The first half-hour of the debate kept candidates focused tightly on different issues, answering questions posed by guest reporters. During the second half, though the format changed to be a bit more freewheeling, the candidates stuck with elucidating their own positions in response to host Sahl's questions.
Though cordial, each candidate tried to stake out his own turf. Gabrieli reiterated his support for $1 billion in state borrowing to support stem cell research, saying that this cutting-edge research – and the jobs from potential commercial applications – will flee the state if greater efforts aren't made to retain it.
While the other candidates didn't jump on board Gabrieli's plan, each said job creation and retention are important.
Mihos touted his plan to increase local aid and reform property taxes to ease the squeeze on cities and towns and on the property taxpayers they depend upon for a large portion of their revenue. Those reforms will not only ease the tax burden of those living here, said Mihos, it will make it more likely businesses will create jobs, since it's currently difficult for employees to find affordable housing.
Housing was also addressed by Patrick, who blamed a lack of affordable housing on poor planning. Patrick said he would tie increases in local aid to improvements in local and regional planning.
The candidates differed on the subject of the income tax, with Reilly asserting that state budget surpluses should be used to cut income taxes. He said he believes the surplus is large enough that the state can afford to both cut income taxes and fund important programs, such as local infrastructure improvements and any aid needed in the wake of recent flooding. Patrick, on the other hand, said he does not support an income tax cut, saying the state needs the money to fund critical programs that haven't received enough in recent years.
The current governor was a target of some of the candidates, with Gabrieli criticizing Romney's performance in the wake of last week's flooding and Patrick saying Romney is ignoring the state's needy even as he lays out the welcome mat for those suffering the effects from Hurricane Katrina. Mihos, in contrast, said he thought Romney is handling the flooding situation properly, touring the area and applying for federal emergency dollars.
The candidates agreed that public education in Massachusetts needs improvement, and they voiced varying degrees of support for the MCAS testing before gaining a high school diploma.
"We have to be about a consistently excellent public education system," Patrick said.
Related links: