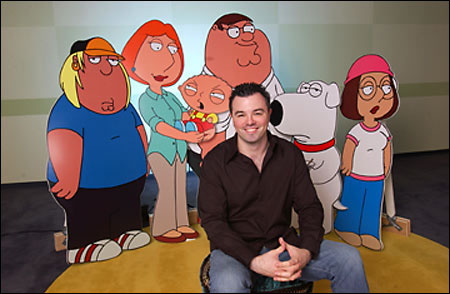 Creator and executive producer of 'Family Guy' will headline undergraduate celebration
Seth MacFarlane, who is creator and executive producer of television's "Family Guy," as well as the voice of the show's major characters, will be the 2006 Class Day speaker, the Harvard College Class of 2006 Senior Class Committee and the Harvard Alumni Association announced. He will address the senior class and guests on Class Day, June 7, at 2 p.m. in Tercentenary Theatre.
"There's a reason why 'Family Guy' is the most popular TV show among college students at Harvard and across the country – and that reason is Seth MacFarlane," says Second Class Marshal Neil Mehta '06. "He's one of the funniest writers of our time. The Class of '06 is looking forward to having the voice of Stewie crack us up on Class Day!"
One of the youngest people ever to create a successful television series, MacFarlane began his career studying animation and design at the Rhode Island School of Design, where he created the animated short film "The Life of Larry." Impressed executives at Hanna-Barbera encouraged MacFarlane to move to Los Angeles in 1995 to create and direct a short film for them. After moving to L.A., he went on to work on numerous animated series, including "Ace Ventura," "Jungle Cubs," and "Johnny Bravo."
Traditionally taking place on the day before Commencement, Class Day is a student-focused, less formal celebration of the graduating class at Harvard College.
"Seth MacFarlane will be so awesome and so absolutely perfect. Mention 'Family Guy' in any conversation and every person will have a Stewie quote! I hope Seth will bring that same take-over-the-world attitude to Class Day, because whether we admit it or not, Harvard is a school of Stewies. Who better to usher us into the real world than Stewie's creator?" said Adams House representative Connie Zong '06.
"After getting the first season of 'Family Guy' for my 20th birthday, it has been my favorite cartoon show. I'm thrilled to have Seth MacFarlane as our Class Day speaker," said Currier House representative Sawalla Guseh '06.
MacFarlane's big break came when the producers of "MADtv" discovered "The Life of Larry" and approached him to air it on their show. Although that deal fell apart, executives at FOX recognized his talent and gave him a shot to create a prime time animated series of his own. Over the next six months, MacFarlane created, animated, wrote, directed, and provided all the main male characters' voices for what became "Family Guy."
Calling on all his contacts, friends, and resources to produce the seven-minute short, he delivered it in May 1998 and just weeks later it was picked up. MacFarlane went on to receive an Emmy Award for Outstanding Voice-Over Performance for his role as Stewie Griffin, and "Family Guy" has garnered two nominations for outstanding animated series. In 2002, he also received an Emmy for outstanding music and lyrics for "Family Guy."
MacFarlane is also co-creator and executive producer of – and voice actor on – the FOX animated series "American Dad." His additional television credits include serving as consulting producer on "The Pitts" and a guest-starring role on "Gilmore Girls."
Born and raised in Connecticut, MacFarlane lives in Los Angeles.