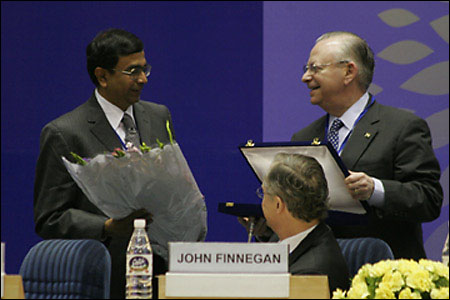 Poised to become the world's most populous nation by 2040, India faces daunting challenges: huge burdens of disease, lack of needed medical care in many regions, and a dearth of public health professionals. In an attempt to deter a looming crisis, the Harvard School of Public Health (HSPH) has collaborated with the Indian government, the Bill & Melinda Gates Foundation, and other public and private partners to form the Public Health Foundation of India (PHFI).
The concept of a public-private partnership to create schools of public health in India was conceived six years ago in discussions between Dean Barry R. Bloom, HSPH's Peter Berman, and Rajat Gupta M.B.A. '73, senior partner of McKinsey & Company. The foundation was launched this spring at a special ceremony in New Delhi attended by Bloom; Gupta; Manmohan Singh, prime minister of India; K. Srinath Reddy, head of the department of cardiology at the All India Institute of Medical Sciences, who will direct the foundation; Nobel Prize-winner Amartya Sen, Thomas W. Lamont University Professor and HSPH adjunct professor of population and international health; and Anbumani Ramadoss, India's minister of Health and Family Welfare.
PHFI aims to influence public health education, research, and policy. The goal is to establish at least five world-class Indian institutes of public health over time, with the first two opening their doors by 2008. The institutes will initially train 1,000-plus professionals a year, with the goal of eventually producing as many as 10,000 graduates annually. The Association of Schools of Public Health of the United States will offer educational and technical assistance in this effort.
The foundation will bolster existing schools of public health by creating a pool of permanent faculty and establishing an accreditation agency that will standardize public health education. India currently graduates some 375 students each year from its schools and institutions of public health – compared with the 10,000 needed annually.
A memorandum of understanding signed in New Delhi by Harvard University President Lawrence H. Summers, Bloom, and Reddy is intended to encourage the cultivation of research collaborations and the development of educational and research programs, including student exchanges and faculty visits.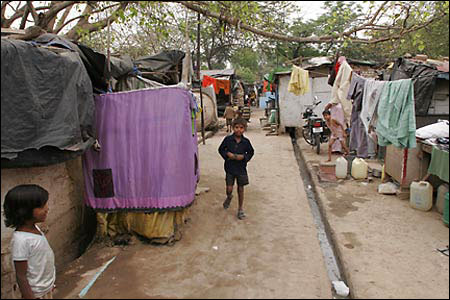 PHFI will focus its research on India's most urgent health problems. Modeling itself on the U.S. National Academy of Sciences' Institute of Medicine, it will create a think tank that explores critical policy issues and advises health decision-makers. Dire health disparities across India underscore the need for the multipronged approach. According to a 2005 World Health Organization report, India has fewer than one hospital bed and one physician per 1,000 residents; in the countryside, where nearly three-quarters of the population lives, one doctor may be responsible for more than 200,000 residents. Health care delivery for HIV/AIDS, tuberculosis, malaria, and polio has faltered in the poorest regions of the country; some estimates suggest that by 2010, more than 20 million Indians will be HIV-positive, up from 5 million today. Maternal and child mortality rates remain high. And chronic diseases such as diabetes and heart ailments are on the rise. Despite these ominous trends, government spending on health care (as a percentage of gross domestic product) has fallen in recent years. With the creation of the foundation, the government has committed itself to increasing the resources available to improve the health of people, particularly in rural areas.
For Bloom, the foundation has a deeply personal resonance. In 1981, the World Health Organization sent him to New Delhi to teach the first immunology course ever offered in India. Twenty-eight students attended the class. Today, the intense pace of medical and public health research, coupled with spiraling disease rates, means that India needs not only top-rank immunologists, but other health professionals well versed in economics, sociology, environmental studies, and epidemiology.
The launch of PHFI capped a weeklong trip organized by the HSPH Office for Resource Development and led by Bloom, who accompanied 19 alumni and friends to India. The group learned about India's public health challenges, history, and culture, as well as about HSPH projects in the region.
In a series of high-level briefings, Berman, professor of population and international health economics, spoke about India's present and potential future health systems. Richard Cash, HSPH senior lecturer in international health, described the success of oral rehydration therapy for severe diarrhea, which has saved millions of lives. David Canning, professor of economics and international health, reviewed the public health implications of demographic changes in the country.
The delegation visited the Village of Hope, a community of leprosy patients and their families in Nand Nagri, Delhi, who receive free treatment at a clinic established by the charity HOPE Worldwide. The charity was founded by Robert Gempel M.E.H. '74 and his wife, Patricia. The group also toured New Delhi's Sanjay Camp, an impoverished community of about 15,000 people where the François-Xavier Bagnoud HIV/AIDS program provides prevention services.
The HSPH trip coincided with a two-day Global Series Symposium in New Delhi, organized by the Harvard Alumni Association. The event – opened by Summers, Singh, and Sen – gathered more than 500 Harvard friends and alumni from 24 countries. Panel discussions included "South Asia and Global Public Health," led by Bloom, Reddy, Gupta, HSPH Professor David Bloom, and HBS Professor Tarun Khanna. A separate panel featured HSPH Professor Jennifer Leaning, who spoke on "South Asia and Civic Engagement and Democracy."