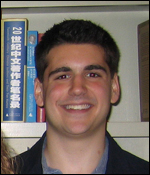 Harvard student Harrison Greenbaum '08 has been awarded first prize in this year's Visiting Committee Prize for Undergraduate Book Collecting for his entry "A Uniquely Portable Magic: A Collection of Treasures from the Conjuring Arts." Second prize went to Alexis Kusy '07 for "The Peculiar Collection," while third prize went to Michael Sanchez '07 for "Collecting the French Avant-Garde." An exhibition featuring items from the students' collections will be on display in Lamont Library on Level 5 through January 2007.
Greenbaum's collection consists of magic books, some historical, many instructional. "Books themselves are magical, but these are literally magic," said the psychology major and working magician. "Most of the stuff I perform is from these books."
The recipient of a magic kit at age 5, Greenbaum was taken with the art. As he explored magic and sleight of hand, his mentors advised him to learn from books, not the available DVDs. That helped made the tricks his own. "The worst thing is to copy," said Greenbaum. "You have to figure out the best way for you to do it. You develop your own style."
Because the profession is secretive, finding these books is hard, according to Greenbaum, who gets many from small publishing companies. His oldest dates to 1930 and his most valuable are autographed by well-known magicians like Ricky Jay, Simon Lovell, and Penn and Teller. When asked his favorite, Greenbaum replied, "It's like asking to choose between your children," but admited he has a particular fondness for "The Art of Astonishment" by magician Pat Harris, which includes an essay explaining that a magician's job is to "help others open up to astonishment." It's something that gives Greenbaum more of a purpose, especially as he currently performs with other local magicians at Mystery Lounge on Tuesday nights at the Hong Kong Café in Harvard Square.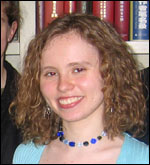 Kusy's collection revolves around the work of author and illustrator Edward Gorey, known for his darkly humorous and macabre illustrated books. Kusy received a biography of Gorey (who also attended Harvard) on her last day of high school. "I promptly lost it on a cruise," said Kusy, "but I was inspired to know more." She picked up another copy and soon began building much of her collection of books and ephemera using eBay and the Gotham Book Mart, a seller of rare and used books in Manhattan that is in charge of Gorey's estate materials. A few of the items included in Kusy's collection are "The Gashlycrumb Tinies," book jackets from Gorey's "Donald" series, and two copies of "The Tunnel Calamity" (a pop-up book).
Third-prize winner Sanchez, who began his collection of French avant-garde books, broadsides, and ephemera about seven years ago, said that adding to it generally involves going to Paris twice a year and looking around used bookstores. His collection boasts several first editions by Guillaume Apollinaire and a selection of books by members of the Dadaist movement. Sanchez plans to visit Paris this June.
Book prize candidates were asked to submit an annotated bibliography and an essay that spoke to issues such as early collecting efforts, influence of mentors, the experience of searching for items, organization and care of items, and future direction of the collection. Sixteen students declared their intention to enter the competition and seven submitted their work for consideration. The jury consisted of Heather Cole, librarian of Lamont Library; Mary Beth Clack, research librarian in Widener Library; and Ellen McGill, reference and electronic resources coordinator in Harvard-Yenching Library.
The Visiting Committee Prize for Undergraduate Book Collecting was established in spring 1977 to recognize and encourage book collecting by undergraduates at Harvard. Members of the Board of Overseers' Committee to Visit the Harvard University Library sponsor the prize. Cole, who has coordinated the competition since its inception, annually selects a jury with noted bibliographic expertise from among Harvard College Library staff.