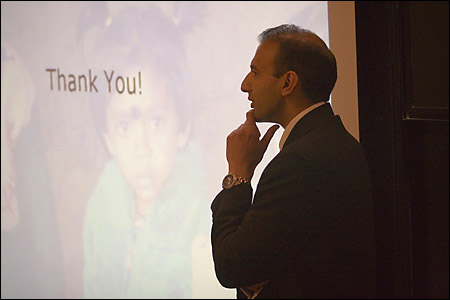 Finding a job can be tough for anyone. For residents of the Palestinian Territories, political tensions have placed extra impediments in the way of both job seekers and potential employers.
"The biggest problem is physical mobility," said Jacob Korenblum, a master's candidate at the Harvard Graduate School of Education (HGSE) and a Harvard Reynolds Foundation Fellow in Social Entrepreneurship. "But with Souktel, people looking for jobs will be able to leapfrog over barriers."
Souktel is the name Korenblum and his collaborators have given to a system they have developed to put Palestinians looking for work and employers looking for help in touch with one another. The name combines "souk," the Arabic word for market, with the familiar abbreviation for telecommunications.
"It's like Monster.com," he said, "except with cell phones."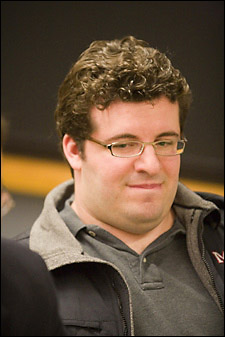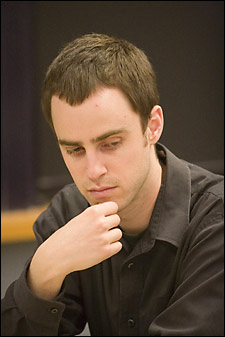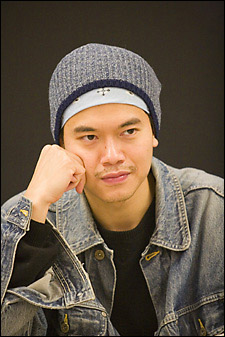 Korenblum, along with fellow HGSE student Dan Dellenbach, and joint Kennedy School of Government (KSG) master of public administration (M.P.A.) and MIT Sloan Fellow/M.B.A. candidate Jarrett Goetz, realized that while young people in the West Bank faced obstacles to free movement and lacked access to the Internet, most of them did have cell phones. The three graduate students worked out the technology for this innovative system and have developed partnerships with universities and cellular service providers in the Middle East and hope they will soon have the system up and running.
It is unlikely that any of this would have happened if it were not for an unusual new course based at the KSG called "The Social Entrepreneurship Collaboratory," or "SE Lab." The course was developed at Stanford University by Gordon Bloom, now an adjunct lecturer at the KSG's Hauser Center for Nonprofit Organizations. Bloom taught the course last year as a pilot program, collaborating with KSG faculty members Mark Moore and Herman "Dutch" Leonard, who is also a professor at Harvard Business School (HBS). This spring is the first time the course has been offered as part of the KSG curriculum, thanks in part to funding by the Catherine B. Reynolds Foundation.
In the Collaboratory, students from 20 degree programs from the KSG, HGSE, HBS, the Harvard School of Public Health, the Graduate School of Arts and Sciences, and Harvard College, as well as from MIT Sloan School of Business and Department of Urban Studies and Planning, Tufts Fletcher School of Law and Diplomacy, Duke Medical School, Columbia Law School, Dartmouth Tuck Business School, and Universitat St. Gallen, Switzerland, work in teams to develop projects in social entrepreneurship, serving populations in the United States and internationally.
"The SE Lab experiments with an interdisciplinary approach to global problem solving. We have one of the most varied constellations of students of any graduate course I know at Harvard," Bloom said. "It is a highly collaborative model."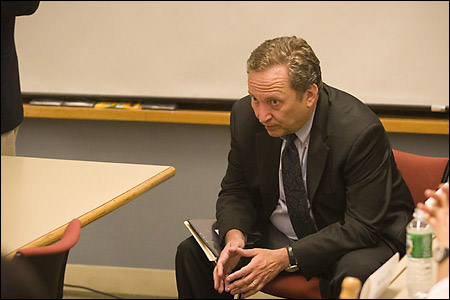 The projects themselves are also quite varied. Among the 20 projects developed over the past semester are "A Penny Saved," a program to promote financial literacy among low-income urban high school students; "Water Options," an initiative to address water-related health challenges in East Africa, "Fitness Forward," a plan to combat obesity and poor health among young people by facilitating healthy lifestyle choices; "United BioFuels," a renewable, clean energy producer; "ForwardMarch," a program to help American soldiers make the transition back to civilian life; "Loans for Hopes," a program to allow low-income students in Chile to go on to higher education; "NGO Resources Centre," which aids underfunded NGOs in Vietnam to better serve the urban poor; "Mountains for Miracles," a team of mountaineers attempting to climb the world's seven highest peaks and raise $5 million to battle childhood cancer; and "SAGE," a pilot program to enable artists in Third World countries to market their work abroad.
"It's rare that universities focus on teaching students how to turn a vision into reality," Bloom said. "What we try to do is combine theory and research with intensive fieldwork, guest lectures by specialists, and team collaboration, so that students will be able to solve the pragmatic, logistical problems and apply what they've learned to the real world.
Bloom writes about the SE Lab's approach to solving social problems in the forthcoming edited volume "Social Entrepreneurship: New Paradigms of Sustainable Social Change" (Oxford, 2006).
"The bottom line is that all these projects can happen, and several are actually happening. There's no doubt about that," Goetz said.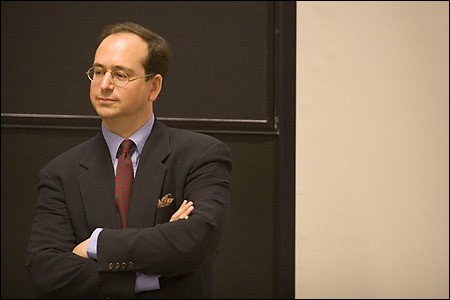 On May 15, the last meeting of the term, Harvard President Lawrence H. Summers visited the class to listen to brief descriptions of the projects by each of the 20 team leaders and to deliver some words of encouragement.
"This has been enormously impressive. I feel better about Harvard and better about the world for having heard you describe these projects. They give one the sense that the world will be a better place. Your efforts embody the KSG as a place of ideas and ideals. And I'm glad you're doing it in a collective way, that you're sharing your experience. Entrepreneurship involves great loneliness. It's a very valuable thing to bring people together, and this should be a powerful spur to action," Summers said.
Tri Phuong, an M.P.A. candidate working on NGO Resource Centre, which will provide support services for local grassroots initiatives serving the urban poor in Ho Chi Minh City and surroundings, agreed with Summers.
"One of the best things about the class has been the opportunity to engage with different minds and to get feedback on your ideas and hear different approaches to solving problems," Phuong said.
Phuong, who was born in Vietnam and came to the United States at the age of 7, worked with gang members in Dorchester before studying at the Kennedy School. He said that through the NGO Resource Centre, which he is developing with fellow team member M.P.A. candidate Thy Nowak-Tran, he hopes to bring the knowledge he has gained working with refugee youth back to Vietnam. He plans to visit Vietnam this summer to confer with local NGOs and conduct field research. He secured funding from the New York-based Malkenson Foundation, which has provided seed capital to several of the projects.
"I think this course will help us zero in on what we need to know and help us figure out how to get the project off the ground," Phuong said.