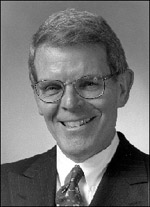 Boston Public Schools Superintendent Thomas W. Payzant has been named a senior lecturer at the Harvard Graduate School of Education (HGSE). Payzant, who holds master's and doctoral degrees from HGSE, will begin his new post on July 1.
"It is hard to imagine an individual who would bring more significant and appropriate professional experience to the Harvard Graduate School of Education than Superintendent Payzant," said Acting Dean Kathleen McCartney. "It is a great pleasure to welcome one of our most accomplished graduates back to campus to share his wealth of experience with our students."
At HGSE, Payzant will focus his time with students and faculty interested in urban school district reform; leadership; and ways to connect research, policy, and practice in urban school districts.
"I began my career as an educator when [Former Dean] Ted Sizer convinced me to apply to the MAT program at HGSE," said Payzant, who came to the Harvard Graduate School of Education after graduating from Williams College in 1962. "It is a privilege and an exciting opportunity to return to HGSE more than 40 years after my journey as an educator began to teach those who aspire to careers in education."
Payzant has served as superintendent of the Boston Public Schools (BPS) since October 1995. Over the past decade he has led a number of significant reform efforts that have helped narrow the achievement gap and increase student performance on both state and national assessment exams. Specifically, from 2003 to 2005, Boston's fourth- and eighth-grade students have shown the largest improvement in math scores of the 11 major cities participating in the National Assessment of Educational Progress Trial Urban District Assessment.
"Over the past 11 years, Tom Payzant has provided unparalleled leadership in turning around the BPS, to the point that it is recognized as a national model for urban education reform in this country," said Boston School Committee Chair Elizabeth Reilinger. "Tom is unique in that he understands the theoretical, research, and policy perspectives on urban education, yet is masterful in designing and executing practices that result in improved teaching and learning in the classroom, at the school, and at the district level. He will be an asset to Harvard, and we hope to draw on his experience and wisdom as we accelerate our efforts for education reform in Boston."
Payzant's work has been recognized by educators at the regional and national level. In 1998, he was named Massachusetts Superintendent of the Year. In 2004, he received the Richard R. Green Award for Excellence in Urban Education from the Council on Great City Schools. And Governing Magazine named Payzant one of eight "Public Officials of the Year" in 2005. Payzant also received the McGraw Prize for his leadership of the San Diego school system from 1982 through 1993.
"I know of no current or recently retired big city superintendent that comes close to Tom in reputation, breadth of experience, knowledge of literature, and quality of administrative skills," said Marshall Smith, program director at the William and Flora Hewlett Foundation.
Prior to serving as superintendent in Boston, Payzant served as assistant secretary for elementary and secondary education in the Clinton administration. Among other achievements in this role, Payzant garnered bipartisan support for guiding the Improving America's Schools Act through the legislative process.
Speaking about Payzant's work at the U.S. Department of Education, former Education Secretary Richard J. Riley noted that "history no doubt will recognize Dr. Tom Payzant's transformative contribution to federal education policy and implementation."
Throughout his career, Payzant has not only kept abreast of the professional and research literature, he has contributed to it regularly – a remarkable achievement for the leader of a major urban school system. His essays, book chapters, book prefaces, and book reviews have been directed to professional educators and policymakers.
Payzant has remained close to the Harvard Graduate School of Education throughout his career. As Boston superintendent, he has mentored six students from HGSE's Urban Superintendents Program during their extended internships. In addition, Payzant has been closely involved in HGSE's Conant Fellowship program, which provides one year of tuition at HGSE to teachers working in Boston and Cambridge public schools.