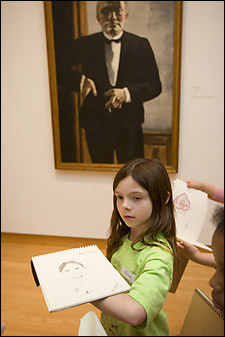 "Maybe it's his dead friend's body rising up to God," says Tony, pointing out the spiritual element he sees in a dark painting hanging in the Fogg Art Museum.
This isn't Tony's first time analyzing art at the Fogg. And it isn't the first time for his 30 classmates from the Amigos Elementary School in Cambridge, either.
All of the bilingual school's third-graders have been attending a yearlong outreach program sponsored by the Harvard University Art Museums (HUAM) focusing on cultural literacy – and much more.
Started seven years ago, the arts collaboration hosts all Amigos, as well as Kennedy-Longfellow School, third-graders for a monthly visit, which begins with an introduction to the Fogg via a tour from the basement to the top floor.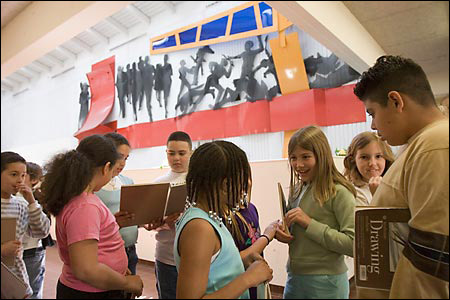 Students progress to studying four artists and a time period chosen by their schoolteachers. Amigos students have been studying the Renaissance period along with works by painters as various as Rembrandt, Van Gogh, Max Beckmann, and Picasso.
The students get "an ease with being in a museum, with the idea that they could come into this place and it will be friendly," says Lynne Stanton, coordinator of public education at HUAM. "They can feel as confident as they might going to a library."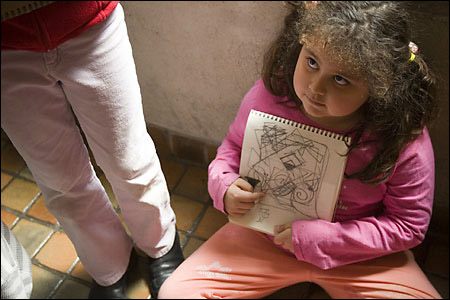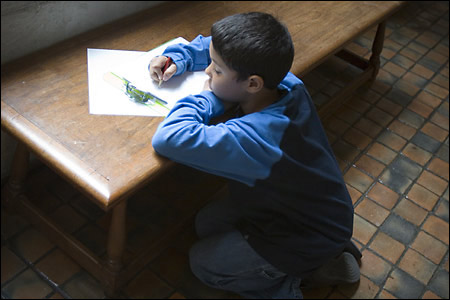 Back in the classroom, teachers follow up on what the kids have been doing and seeing at the museum by showing them reproductions of the artwork and making assignments that reinforce lessons about the artists as well as some of art's basic elements: line, form, color, shape, and texture.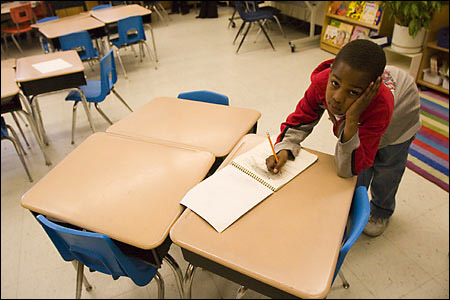 "We really cherish this relationship with the museum, and I hope that it continues," says Marcia Pertuz, a Harvard Graduate School of Education graduate and teacher at the Amigos School for the past 12 years. She adds, "The experience teaches them that art is for all – all classes, all people, and all languages."
On one visit to the museum, the Amigos students listen intently to their docent, Carolyn Woollen-Tucker, as she points out shades of color and asks them what in the paintings elicit strong thoughts and feelings.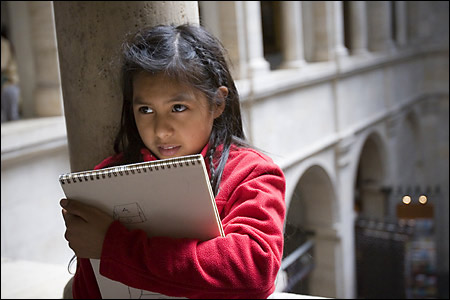 Later, Woollen-Tucker asks the kids to draw a sculpture in the sketchbooks provided to them by HUAM, explaining that the exercise is meant to teach them that "you have to really look at things closely to learn."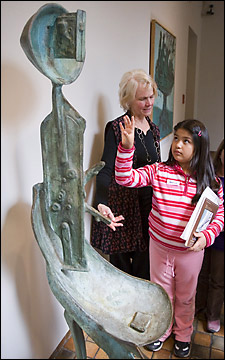 There's no pointing or laughing at the sculptures and paintings of nudes anymore. That stopped after the first couple of visits.
"Aw, that was quick," says one boy when he learns that time is running out on his field trip. There's only enough time for one more exhibit, another bronze sculpture. Woollen-Tucker explains that this one is different from the previous one because it's abstract, not realistic.
All this experience will come in handy on June 2 when HUAM hosts a breakfast reception, or "opening," for the students and their families to showcase the kids' artwork, poetry, and stories. For some parents, it will be the first time that they are in the Fogg, but a few of the kids have gotten their families to come to the museum because they were so excited about what they were learning.
Time's up. On the way out, I am approached by a girl who had told me on the way over to the museum that she wanted to be a teacher someday, who now announces, "I want to be an artist or a teacher." It's obvious that her options are growing.