The Harvard Alumni Association (HAA) has announced the recipients of the 2006 Harvard Medal: Chase N. Peterson '52, M.D. '56, Chet Stone III, and Sidney R. Knafel '52, M.B.A. '54.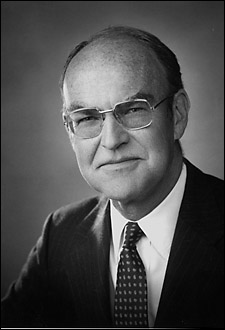 First given in 1981, the principal objective of the awarding of the Harvard Medal is to recognize extraordinary service to the University. Extraordinary service can be in many different areas of University life, including teaching, fundraising, administration, management, generosity, leadership, innovation, or labors in the vineyards. President Lawrence H. Summers will present the medals during the annual meeting of HAA on Commencement afternoon, June 8.
Chase N. Peterson left the practice and teaching of medicine to accept a call from President Nathan Pusey to be the dean of admissions and financial aid at Harvard College in 1967. In his role of dean, during challenging years of campus protest and social change, Peterson took a strong stand against establishing separate admissions committees or different standards for the evaluation of minority applicants. Peterson's adjustments to the system included the hiring of Harvard's first African-American admissions staff member, John S. Harwell, in 1968, the enlistment of black students in recruiting, as well as a special appeal to the alumni Schools Committee. The U.S. Supreme Court has twice cited Harvard's "adjusted system" as exemplary when it decided in favor of affirmative action in 1978 and 2005.
In 1972, President Derek Bok asked Peterson to occupy a new position of vice president of alumni affairs and development. Together, the president and Peterson set out to design a modern management system for Harvard fundraising and went on to plan what was at that time the largest coordinated University Capital Campaign.
Peterson then returned to the University of Utah where he was vice president of health sciences from 1978 to 1983, and then president of the university from 1983 to 1991. While president, he served as chair of the National Association of State Universities. He is now president emeritus of the University of Utah and semiretired professor of medicine.
Chet Stone III ran the equipment room in Dillon Field House for more than 30 years in a manner that was outgoing, helpful, and vital to the athletic experience at Harvard. He started an alumni and friends annual golf tournament to raise money for Children's Hospital Boston and St. Elizabeth's Hospital in Brighton, Mass. The tournament, known as the Chet Stone Dillon Open Golf Tournament, has become a Harvard tradition.
Since his retirement in 2005, Stone has continued to support and advance the goals of Harvard Athletics. He is working with the Athletic Department to supply tickets to area youth groups for Harvard sporting events, as well as arranging the use of University athletic facilities for the city of Boston and Allston-Brighton communities. He was an inaugural recipient of the "33" Touchdown Club Award for distinguishing himself both on and off the football field and for his consistent support of Harvard's athletes and the University's athletic programs. He also won the Harvard Varsity Club Award in 2000.
Outside of Stone's successful career at Harvard, he is also a member of the Boston Park League Hall of Fame after spending 15 years in its baseball league and another 10 playing football. He was MVP in both in 1967. He is currently lending his considerable experience to a company that is developing the Weymouth Naval Air Station.
Sidney R. Knafel has long been involved in strategic planning for the future of education at Harvard. He served as chair of an ad hoc group of alumni and faculty that examined international aspects of Harvard's needs and established priorities before the University Campaign was launched in the early 1990s. He served as a national co-chair for the University Campaign and received the Harvard College Fund's McCord Award for exemplary long-term service to the fund.
In addition, he financially supported the creation of the Center for Government and International Studies, which was designed to encourage collaborative approaches to the study of issues that cut across different regions of the world. He has chaired the New York Major Gifts Steering Committee for more than a decade, is a vice chairman of the Class of 1952, and a vice chair of the Committee on University Resources Executive Committee. He formerly chaired the College Visiting Committee, the Faculty of Arts and Sciences' (FAS) International Studies Planning Committee, and the Center for International Affairs Visiting Committee. He was a member of the FAS Dean's Council for over a decade.
A business leader and entrepreneur, he has spent over 40 years as an investment banker, venture capitalist, and founder, officer, or director of some of the country's more successful growth companies. He is currently the founder and managing partner of SRK Management Co., a private investment firm. In addition to his leadership at Harvard, he is also a member of the board of trustees at Wellesley College, the Juilliard School, and Phillips Academy Andover. He is chairman of the board of governors for the Addison Gallery of American Art, as well as chairman of the board for the Rogosin Institute, an affiliate of New York Presbyterian Hospital.