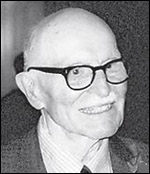 Ronold Wyeth Percival King, mentor to 100 doctoral students in the Harvard University Division of Engineering and Applied Sciences, died peacefully in his home in Winchester, Mass., on April 10 at the age of 100. King was born in Williamstown, Mass., in 1905. He received his A.B. and S.M. degrees in physics from the University of Rochester in 1927 and 1929, respectively, and studied at the University of Munich from 1928 to 1929 and Cornell University from 1929 to 1930. He obtained a Ph.D. in physics from the University of Wisconsin in 1932, where he continued on as a research assistant from 1932 to 1934. He was an assistant professor at Lafayette College from 1934 to 1937. He was a Guggenheim Fellow studying in Europe from 1937 to 1938 and again in 1958. In 1938, he joined Harvard University as an instructor, became an assistant professor in 1939, an associate professor in 1942, and in 1946 became the Gordon McKay Professor of Applied Physics. In 1972, he became professor emeritus.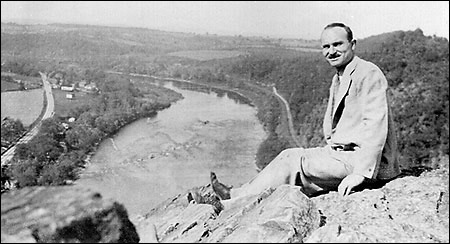 King had a very close and long-lasting relationship with his students. He shared a brown-bag lunch with them almost daily, and his office was always open for discussions; appointments were not necessary. King had a positive effect on the lives of his students and he considered them part of his extended family. He taught by personal example and as a result he set very high academic standards for his students. Fortunately, he had the wisdom to realize that when a student was having a problem in meeting those standards, rather than casting the student aside, he made a special effort to give the guidance that the student needed to overcome his or her problem. In addition – and probably more importantly – he instilled in his students moral values.
His dedication to his doctoral and master's students was profound, and they showed their appreciation by sharing many happy occasions with him. The very first event was a testimonial on the occasion of King's transition to professor emeritus. On April 15, 1972, students, spouses, and guests toasted King at the Harvard Club of Boston. One of the highlights of that evening was the announcement that his students planned to establish the Professor R.W.P. King Education Fund. The fund would provide for an annual award to a young author of an outstanding paper that was published in the Institute of Electrical and Electronics Engineers Transactions on Antennas and Propagation.
This gathering led to many more occasions. Students enjoyed the opportunity to visit with King and to mingle with one another as family members often do. When the Institute of Electrical and Electronics Engineers (IEEE) Antennas and Propagation Society was holding its symposium in Boston, they would use the event as an opportunity to get together.
Probably the most memorable party was in 2005, a celebration of King's 100th birthday. King was in good spirits, happy to see his former students and colleagues, and a good time was had by all 80 attendees. Prior to the party, King had sent out a copy of his autobiography, "A Man of the 20th Century," to all of his students.
His scientific contributions were prodigious. He was the author of 12 books, many of them treatises; many book and encyclopedia chapters; and more than 300 journal papers. Most amazing, he never seemed to slow down. He published his latest book at age 97 and published his latest journal paper at age 98. He received numerous honors. King was a Life Fellow of IEEE and a fellow of the American Physical Society and the American Academy of Arts and Sciences.
He received the Distinguished Service Award from the University of Wisconsin (1973), the Centennial Medal of the Institute of Electrical and Electronics Engineers (1985), the Harold Pender Award from The Moore School of Electrical Engineering of the University of Pennsylvania (1986), the Distinguished Achievement Award of the Electrical and Electronics Engineers (1997), the IEEE Graduate Teaching Award from the Institute of Electrical and Electronics Engineers (1997), and the Chen-To Tai Distinguished Educator Award from the IEEE Antennas and Propagation Society (2001).
He was the beloved husband of Mary M. (Ellard-Govoni) and the late Justine (Merrell); the loving father of Christopher M. King of Connecticut; Beverly M. Griffin of Cape Elizabeth, Maine; Susan A. Dalton of Townsend, Mass.; and Sandra J. James of Londonderry, N.H. King is also survived by eight grandchildren and two great-grandchildren. A memorial service will be held in the Parish of the Epiphany Church, 70 Church St., Winchester, on Friday (April 21) at 10 a.m. Relatives and friends are respectfully invited to attend. In lieu of flowers, donations in his memory may be made to Hospice Care Inc., 41 Montvale Ave., Stoneham, MA 02180.
– Edward E. Altshuler,
an alum and former student of King's