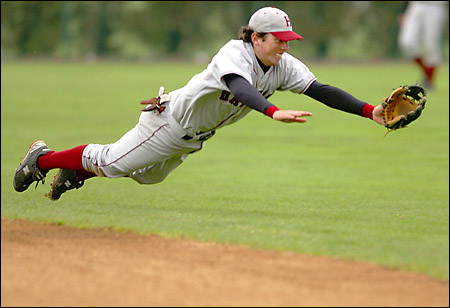 The pressures of pride served a visiting Brown baseball team well in game two of Monday's (April 24) doubleheader. Facing elimination in the Red Rolfe Division title race – and carrying the fresh sting of dropping three straight against the Crimson by scores of 1-0, 8-4, and 5-2 – the Bears bucked the series trend with a 16-2 thrashing of their hosts in the fourth and final contest to avoid the sweep, and, most importantly, to stay mathematically alive in the hunt for the division title.
In Monday's second game (a makeup date following Sunday's rainout), the Bears owned a quiet 3-2 edge before exhibiting their league-leading offense in innings seven and eight, when the team exploded for four and nine runs, respectively. The strong finish capped a frustrating series for the Providence club, who effectively blew game two of Saturday's (April 22) doubleheader in the bottom of the eighth.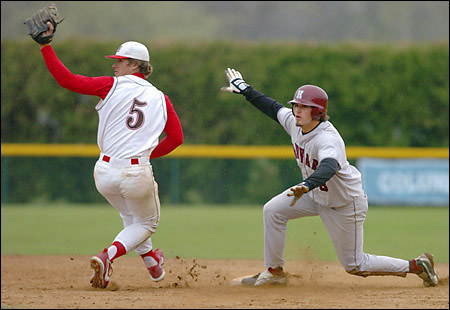 In that game, Brown committed a series of errors (six in the game), including a bobbled grounder in shortstop land and a dropped pop fly in center field, to eventually stack the bases with Crimson shirts. Harvard broke the 4-4 stalemate when sophomore Taylor Meehan cracked a hard grounder just inside the third base line to plate a pair of runners. Following a wayward throw to first, the Crimson managed to score two additional runs to take the 8-4 lead.
With the wins, Harvard improves to 12-4 Ivy to stay a game atop Dartmouth in the division standings. The Bears (11-20 overall; 9-7 Ivy), meanwhile, are three games out of first place.
In non-league action, Boston College posted a 10-2 victory over the Crimson in the title game of the 17th annual Beanpot this past Tuesday afternoon (April 25) at Fenway Park. Harvard got on board first in the bottom of the opening inning following senior Lance Salsgiver's two-run double off the big green wall before succumbing to the Eagles' balanced hitting over the next eight innings. The Crimson slip to 18-15-1 overall with the setback.