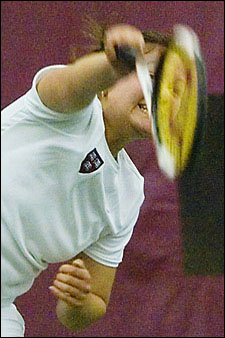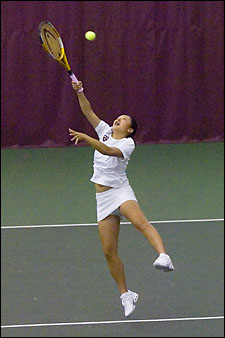 One point at a time could very well be the strategy behind the Harvard women's tennis team's recent string of successes. It also makes for a fitting introduction in the telling of the team's tale over the past few weeks.
In the Crimson's four contests this month, the team has captured the doubles point, and ultimately the match, in every one of its meetings, save for a Pepperdine loss in Malibu, Calif., on April 1. Since that 5-2 setback (narrow by every measure, as Harvard fell 8-6, 9-7, and 8-5 in doubles action), the Crimson have cruised to three consecutive wins at the Murr Center by first dominating doubles play. The result: a 6-1 triumph over Cornell; a 7-0 shutout of Columbia; and, most recently, a 5-2 victory against Rice University on Sunday (April 9). That last win over the Owls improved the Crimson to 13-6 overall (2-0 Ivy) – good for a 17th ranking in the latest College Tennis poll.
Against Rice, however, Harvard's netting of the doubles point was hardly automatic. After the visitor's victory at the No. 3 position – an 8-4 dismissal of Lyly Cao Minh '06 and Cindy Chu '07 – and the Crimson's rebuttal at No. 2 (an 8-3 triumph courtesy of Preethi Mukundan '07 and Laura Peterzan '09) – the point came down to a standoff between Harvard's Elsa O'Riain '07 and Stephanie Schnitter '08 and Blair DiSesa and Medeja Egic of Rice. Playing in just their second match together, the Crimson tandem dispensed with their opponents, 8-6, to clinch the set and doubles point.
Soon after in singles action, Harvard fired off three straight victories at the No. 2, 6, and 3 positions, starting with O'Riain's 6-2, 6-1, victory against doubles-winner Dao, to lock up the match win for Harvard. And though consecutive losses in the fourth and fifth contests dwindled the Crimson's lead to 4-2, Harvard's Mukundan also continued her winning ways, topping Alanna Rodgers in a hard- fought contest, 6-5, 6-4, to end all play.
The women travel to Penn and Princeton this Friday (April 14) and Saturday (April 15). Currently atop the Ivy standings, the Quakers are the league's only other undefeated club at 3-0 (9-4 overall). The Tigers (7-8; 1-2 Ivy), meanwhile, are tied for fifth with Cornell.