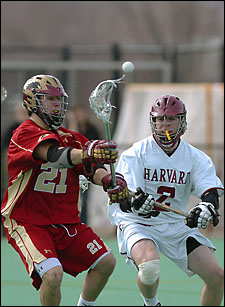 Nearly a year to the day of the Harvard men's lacrosse team's 9-8 loss in the Mile High City, the Crimson squad – hosting the University of Denver on April 1 – avoided being cast the fool a second time around, clipping the Pioneers, 8-7. No small feat either, considering the Cambridge crew withstood 44 shots from the 14th-ranked visitors over four periods of regulation and 10:45 of overtime. All that in addition to having a handful of goals thrown out, including a controversial, near buzzer beater by attackman Greg Cohen '07 at the end of regulation.
Fortunately, Harvard's last goal was clean and clear, as a seemingly vengeful Cohen lunged across the crease with 1:15 left in the third OT before firing the game-winner past goalie Jeb Hollingsworth. The goal – his second on the afternoon – put an end to the 90-minute-plus affair, improving the Crimson to 4-2 (1-0 Ivy) on the season. The win also marks Harvard's second straight against a top 20 opponent. On March 25, the Crimson outshot a then 14th-ranked Penn squad, 13-8.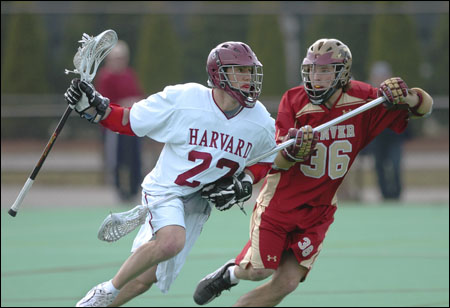 Recent Rookie of the Week selection, midfielder Max Motschwiller '09, scored two unassisted goals in the win on his way to completing a hat trick. Splitting goaltending duties, Evan O'Donnell '08 and Joe Pike '09 combined for 18 saves.
Next up, the Harvard men host No. 2 Cornell this Saturday (April 8) at 1 p.m. The Big Red (6-1; 1-1 Ivy) dropped its first game of the season to Penn, 8-6, just as the Crimson were in action against Denver.