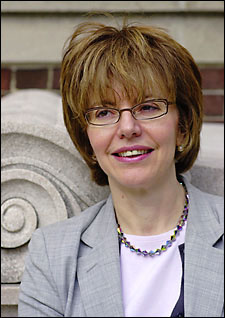 Alina Payne, professor of the history of art and architecture, has received the 2006 Max Planck Research Award, for outstanding work in art history. This annual award, Germany's equivalent to the Nobel Prize, recognizes two scholars – one working in Germany and one working abroad – with a stipend of 750,000 euros each. This honor, granted on a rotating basis to scholars in the engineering sciences, the natural sciences, the life sciences, and the humanities, identifies scholars of international repute whose work, according to the Max Planck Society, has the capacity to "initiate, deepen, or expand international cooperation."
Payne, who joined the Harvard faculty in 2003, specializes in Early Modern art and architecture (a period that includes the Renaissance and the Baroque) as well as Modern architecture from the mid-19th to early 20th centuries. In books such as the award-winning "The Architectural Treatise in the Italian Renaissance," she looks at theories of Renaissance architecture and the role of ornament in contemporary reinventions of classicism. Other works include the pending "Modern Architecture and the Rise of a Theory of Objects" and an edited volume of essays on vision in the arts and sciences in early modern Europe, titled "Beyond Perspective: Seeing Science and the Science of Seeing."
Payne's work is highly interdisciplinary. She cares about architecture's relationship to its culture. Thus she scrutinizes relationships between architecture and, variously, literature, science, the figural arts, archaeology, anthropology, and other fields. Payne's work is also highly international. Fluent in six languages, she collaborates extensively with colleagues around the world.
Payne finds it gratifying that the Planck Award honors the humanities as well as the sciences.
"I study a period [the Early Modern period] when the sciences and the arts were coextensive, when academies gathered literary people, antiquarians, astrologers and topographers, astronomers and mathematicians, those involved in the occult sciences and those working on mechanics, architects and painters," Payne said.
"Nowadays the arts, and the humanities more broadly, tend to be thought of as separate from the sciences. Indeed, it is not uncommon for the humanities, and the arts more than any other of its branches, to be perceived as something of a luxury, as an ornament that is nice to have but not really essential.
"And yet," said Payne, "when we use the offerings of the sciences, when we fight for causes and go to war or make a stand for peace, when we interact with other cultures, when we decide on basic issues like right and wrong, when we set the limits of science, it is on our experience of the humanities that we draw – on our knowledge of history, of languages, of philosophy, of literature and the arts.
"Time and again, I am startled at how little the worlds of technology, of the pure and applied sciences, and of the humanities interact or are seen as relevant to each other. The Max Planck prize, recognizing as it does the humanities alongside the sciences, goes a long way towards making a very public case for what matters in our culture."
Payne, who received her bachelor of architecture degree from McGill University in 1977, practiced architecture in Toronto for more than a decade while earning her master's and doctoral degrees in art history from the University of Toronto. From 1991 to 2003, Payne rose from assistant, to associate, to full professor at the University of Toronto.
"For those of us teaching architecture, it is imperative to convey the significance of architecture as art in our daily lives," said Payne. "Architecture constitutes the framework for our lives – our public and private lives, our personal and collective lives – and as such it plays an extremely important role in how we think of our relationships with state, city, neighbor, family, nature, and so on. The students of today are the policymakers and clients of tomorrow – the committee members who will commission work, choose architects, and define the scale, location, and scope of projects. It is important that they understand what the issues are, and this is where we, as teachers and authors, need to step in."
Recipients of the Max Planck Award are selected by members of the Max Planck Society and the Alexander von Humboldt Foundation. Funding is provided by the Federal Ministry of Education and Research in Germany.