Jacob K. Olupona, a noted scholar of indigenous African religions who is currently leading an ambitious study of the religious practices of African émigrés in the United States, has been appointed professor of African and African-American studies and religion in Harvard University's Faculty of Arts and Sciences and Harvard Divinity School, effective July 1.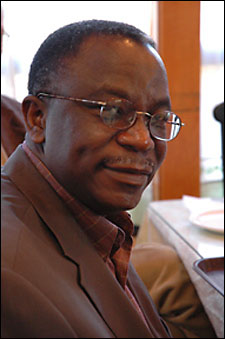 Olupona, 55, comes to Harvard from the University of California, Davis, where he is professor and director of African-American and African studies.
"Professor Olupona is without peer among scholars of indigenous African religions," says William C. Kirby, Edith and Benjamin Geisinger Professor of History and dean of the Faculty of Arts and Sciences. "His unusually strong scholarship in this challenging field has redefined the study of African religions and is poised to reshape our understanding of Africa's religious diaspora. His rich interdisciplinary approach will attract undergraduate and graduate students with interests in a broad range of fields."
"Jacob Olupona brings to Harvard an immensely important capacity to join the serious and groundbreaking study of indigenous West African religious traditions and practices to the study of African-American religion and practice and its deep involvement even to the present moment in its African heritage and inspiration," says Dean William A. Graham of the Harvard Divinity School. "We look forward with great anticipation to welcoming him as an important participant in a variety of discourses here at Harvard, both in comparative religious studies and in American religious studies more broadly."
Olupona is currently working on a pathbreaking study of the religious practices of the estimated 1 million Africans who have emigrated to the United States over the past 40 years. He intends to examine several populations that remain relatively invisible on the American religious landscape: "reverse missionaries" who have come to the United States to establish churches, African Pentecostals in American congregations, American branches of independent African churches, and indigenous African religious communities in the United States. This work stands to contribute greatly to our understanding of how international migration has shaped the mosaic of American religion, as well as illuminate the similarities and differences between Christianity's African and African-American variants.
Olupona's earlier research has ranged across African spirituality and ritual practices, spirit possession, Pentecostalism, Yoruba festivals, animal symbolism, icons, phenomenology, and religious pluralism in Africa and the Americas. He examines how the structure, content, and meaning of religious beliefs and practices permeate daily life, as in his forthcoming book "Ile-Ife: The City of 201 Gods," which examines the modern urban mixing of ritual, royalty, gender, class, power, and religion. He has authored or edited seven other books, including "Kingship, Religion and Rituals in a Nigerian Community: A Phenomenological Study of Ondo Yoruba Festivals" (Almqvist & Wiskell International, 1991), which has become a model for ethnographic research among Yoruba-speaking communities.
Olupona has received prestigious grants from the Guggenheim Foundation, American Philosophical Society, Ford Foundation, Davis Humanities Institute, Rockefeller Foundation, Wenner-Gren Foundation, and Getty Foundation. He has served on the editorial boards of three influential journals and as president of the African Association for the Study of Religion. In 2000, Olupona received an honorary doctorate in divinity from the University of Edinburgh in Scotland.
Since 1991, Olupona has taught primarily at the University of California, Davis. He has also held visiting appointments at Florida International University, Harvard, Muhlenberg College, Smith College, Bayreuth University in Germany, and Selly Oak Colleges in Britain. He earned a bachelor's degree from the University of Nigeria, Nsukka, in 1975, followed by master's and doctoral degrees from Boston University in 1981 and 1983, respectively.