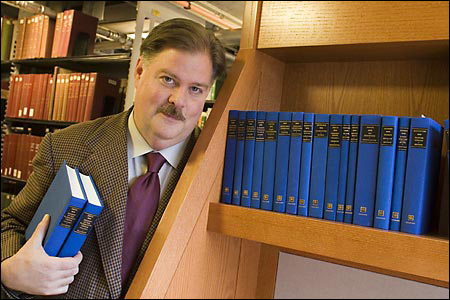 The I Tatti Renaissance Library (ITRL) has received a grant of $1.2 million from the Andrew W. Mellon Foundation to continue producing bilingual editions of important Latin writings from the 14th to the 16th centuries. The series, sponsored by the Harvard Center for Italian Renaissance Studies at Villa I Tatti near Florence, is published by Harvard University Press.
The series began in 2001 under the direction of history professor James Hankins with the aim of producing a sort of "Loeb Library" of Renaissance Latin literature. Since then, the ITRL has published an average of four volumes per year, with 23 titles now in print and between four and six more scheduled for the spring of 2007.
"This is a literature that has been sadly neglected by scholarship, even though it is by far the best avenue to understanding the spirit of the European Renaissance," said Hankins, who serves as general editor.
The series includes works by admired and influential writers like Giovanni Boccaccio, Marsilio Ficino, Leonardo Bruni, Leon Battista Alberti, Francesco Petrarca, Pietro Bembo, Angelo Poliziano, and many others. At a time when Latin was used throughout Europe as a lingua franca of scholarship and diplomacy, works of history, biography, philosophy, poetry, and fiction by these authors were widely read and discussed. However, with the rise of European nationalism and a growing emphasis on vernacular languages, Latin literature of the Renaissance fell into neglect, although the Roman classics continued to be read and studied.
Yet many of these works are essential for understanding Renaissance culture. For example, one of the first works published by the ITRL was "Platonic Theology" by Marsilio Ficino. Ficino lived in Florence in the 15th century, where he received the support of the Medici family. He was responsible for reintroducing the study of Plato into Western culture. "Platonic Theology" is an attempt to reconcile Plato with Christianity.
What is most significant about Ficino is that his work influenced many Renaissance artists, Michelangelo and Botticelli among them. Michelangelo's Sistine Chapel frescos and Botticelli's "Primavera" are thought by many scholars to reflect Ficino's Neoplatonic ideas. Yet, until the appearance of the ITRL edition, there was no English translation of this, his principal work.
With the help of the Mellon grant, ITRL plans to publish approximately 150 volumes by 2026, a fairly ambitious goal considering that the Loeb Library recently published its 500th volume and has been at it since 1910.
Hankins hopes that in 20 years the ITRL will, like the Loeb Library, become self-sustaining. The expectation does not seem unreasonable, considering that the attractive, hardcover volumes, priced at $29.95, have earned back an increasing amount of money each year.