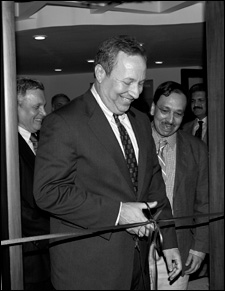 With more than a billion people and an economy that has been growing at 7 percent or more for the past decade, India is poised to become an economic powerhouse. Indeed, the nation's impact on global business is already being felt, as over 40 percent of Fortune 500 companies have outsourced a portion of their services operations to India.
It is within this context that the Harvard Business School decided to place its newest international research center in the dizzying metropolis of Mumbai, India. "Mumbai is like the New York of India," said Richard H.K. Vietor, Senator John Heinz Professor of Environmental Management and faculty chair for Asia at Harvard Business School (HBS). "It's where all the finance is, it's where all the public headquarters of Indian businesses are."
The India Research Center (IRC) formally opened with a daylong research symposium on March 24. Attending the event, held before an audience of prominent business leaders from India and South Asia, were Vietor, HBS Acting Dean Jay Light, Harvard President Lawrence H. Summers, and a group of HBS faculty members. At the symposium, Summers observed, "The IRC will disseminate important ideas that will create leaders and affect people's lives. It aims to make a great contribution to India at this crucial time in its history."
The IRC joins HBS international research centers in Latin America (Buenos Aires), Asia-Pacific (Hong Kong and Tokyo), and Europe (Paris). These facilities provide foreign bases from which HBS faculty members can conduct on-site research and develop teaching materials, such as the school's renowned case studies. "It's a global economy and we want our curriculum to reflect the real world," said Vietor. "Therefore, we need to produce international business cases. And we particularly want faculty to engage India because we think it's going to be a central part of the world economy. We don't want to be researching these cases from libraries, we want faculty on the ground in international locations, doing research with people who really understand the country."
But it can be hard to develop all-important contacts with local business and government leaders, particularly in the face of language and cultural barriers. This is where the research center comes into play.
Each international research center employs local staff and researchers. Ajay Mookerjee, the executive director of the new India center, said, "My role, first and foremost, is to set the vision of what is topical and research-worthy and to create field leads," he said. "Next, I attempt to co-opt HBS faculty and Indian academics or industry or government leaders to jointly work with the research center on some of those ideas. I also manage the research process and work to create a network, to keep new ideas flowing through the pipeline. Finally, I oversee the center's administration."
Vietor says that he'd like to see 30 or 40 HBS faculty members engage in projects in India and South Asia over the next three to four years. Several initiatives are already under way – John Quelch, Lincoln Filene Professor of Business Administration, and Mookerjee have written a paper titled "Marketing to India's Underserved Consumers." The India Research Center is also working with assistant professor Mukti Khaire to study Indian fashion entrepreneurs. With assistant professor Shawn Cole, the center is studying the changes in the Indian regulatory environment. And the center will soon begin a three-part study with Regina Herzlinger, Nancy R. McPherson Professor of Business Administration, and the Harvard Medical School on the Indian medical tourism industry.
All of this activity pleases Vietor, who envisions the formation of institutional relationships as another of the center's functions. "This is the face of Harvard Business School in India," he said. "It will benefit us to build relationships with some of their business schools – and they've got a bunch of very good business schools – as well as with the government, businesses, and our alumni in the region. We hope our work will bring new insights and knowledge to them."