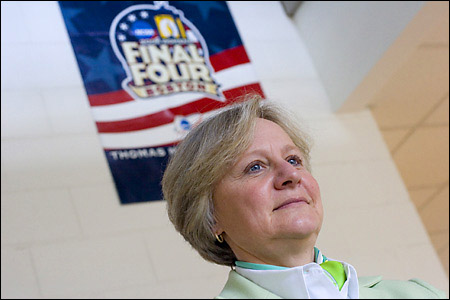 Although the Harvard women's basketball team didn't quite make an appearance in the 2006 Final Four tournament (the Crimson, for the record, finished the season 12-15, 8-6 Ivy), the University wasn't entirely unrepresented in the Big Show. In fact, as one of the official hosts and partners for the 25th annual women's Final Four, Harvard (together with usual crosstown rival Northeastern University) played a key role in the planning and coordination of the multi-day event.
In addition to the main attractions at TD Banknorth Garden – the national semifinals featuring North Carolina vs. Maryland and Duke vs. LSU (both on April 2), and the title game (April 4) that saw underdog Maryland overpower Duke, 78-75, in overtime – the long Final Four weekend also included a host of fan-friendly auxiliary activities held throughout the city, such as a Youth Education thru Sports (YES)-sponsored clinic at Harvard's Lavietes Pavilion on April 1. There, some 200 youth participated with college women's basketball coaches, NCAA referees, and strength and conditioning coaches.
Leading the Harvard charge off the court was Athletic Director Bob Scalise and Senior Associate Athletic Director Pat Henry. From the time the NCAA selected Boston as the host city for these games back in 2001, the two have coordinated and collaborated tirelessly with all aspects of local and state government, the business and academic communities, area youth groups, law enforcement of all rungs, and the NCAA to make the event free of glitches, safe, and fun. Indispensable to its success was a crew of 1,000 helpful and visible volunteers, including 25 individuals from Harvard's own Athletics Department.
"Our intent was to bring the highest profile women's collegiate championship to Boston to show the collegiate sporting world that Boston is a great place to hold such events," said Henry. "We did it and with great success. I'm still in awe of the accomplishment and proud that Harvard committed five years to help lead the effort."
An estimated 30,000 basketball fans visited the city to attend at least one of the events surrounding the Final Four (Chowder Fest at Faneuil Hall and the Hoop City expo at Hynes Convention Center among them). Meanwhile, the economic impact to the region has been estimated at $25 million. This on top of what many are calling some of the most exciting and dramatic basketball in the history of the women's tournament. A point of view Henry (and certainly Maryland fans) is happy to share. "The games were tremendous," admitted the fan behind the planning.