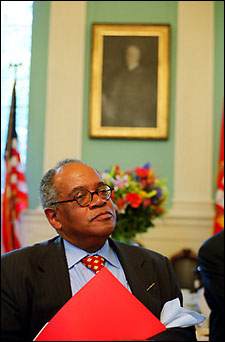 The Harvard Divinity School (HDS) Alumni/ae Association recently named the Rev. Professor Peter J. Gomes, the Plummer Professor of Christian Morals and Pusey Minister in the Memorial Church, its 2006 Preston N. Williams Black Alumni/ae Award winner. Gomes was honored April 7 at "A Time to Speak," a daylong event sponsored by the HDS Black Alumni/ae Network (along with the Harambee Student Organization at HDS) examining the power of African-American churches in responding to crisis.
An American Baptist minister, Gomes received the bachelor of sacred theology (S.T.B.) degree from the School in 1968, and has been Pusey Minister and Plummer Professor of Christian Morals at Harvard since 1974. Gomes preaches and lectures widely throughout the United States and the British Isles. He was named "Clergy of the Year" in 1998 by Religion in American Life, and he is a prolific author of books, including "The Good Book: Reading the Bible with Mind and Heart" (1996), "Sermons: Biblical Wisdom for Daily Living" (1998), "The Good Life: Truths That Last in Times of Need" (2002), "Strength for the Journey: Biblical Wisdom for Daily Living" (2003), "The Backward Glance and the Forward Look" (2005), as well as of sermons, articles, and academic papers. At HDS, Gomes has recently taught "The Christian Bible and Its Interpretation" and "Introduction to Public Preaching." He also holds an A.B. degree from Bates College and 30 honorary degrees.
The Preston N. Williams Black Alumni/ae Award honors individuals who have demonstrated a concern with the religious experience of the African Diaspora and who have evinced this concern by their study, instruction, and general body of work. The award's official description also states, "This person has likewise demonstrated a commitment to scholarship at Harvard Divinity School, and has been an inspirational model of brotherhood and sisterhood by empowering others in the pursuit of truth and justice through unfailing support of students, faculty, and/or staff." The award is one of three given annually by HDS; the First Decade Award and the Rabbi Martin Katzenstein Award will be presented in June.
The HDS Black Alumni/ae Network (BAN) was established in 1988 to address the needs and interests of the School's students and graduates of African descent. BAN works in coordination with the parent HDS Alumni/ae Association to promote recruiting of students of African descent, networking for job placement and internships, and mentoring of HDS students of African descent. BAN has also recently reconfirmed its commitment to fundraising for the Black Seminarians Fund, which was created in 1985 and provides financial aid to HDS students.
In addition to the April 7 awards ceremony, the program included panel discussions on faith-based action in times of crisis, as well as an interfaith worship service and a career discussion for current students and alumni/ae.