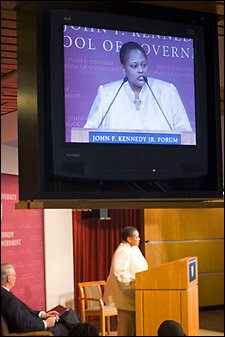 Jendayi Frazer, assistant U.S. secretary for African Affairs, sounded an optimistic note on the future of Africa during a speech Friday (April 21) at the Black Policy Conference at the Kennedy School.
"It is necessary to look at the real trends in Africa," Frazer told an audience at the John F. Kennedy Jr. Forum. "The context is ripe for positive change, much of which is already under way."
Frazer, a former assistant professor at the Kennedy School who served as U.S. ambassador to South Africa from 2004 to 2005, explained that there are many common misconceptions about the continent – among them that is it replete with "death, disease and dictatorship" – when in reality many African countries are making significant economic and political progress.
"I believe that Africans are implementing better governance across the continent," she said. "They are creating the conditions for peace and prosperity, and that is really the picture."
Six African wars have ended over the past five years, Frazer said, and the 2006 Freedom House index (of the nongovernmental organization Freedom House) now lists 11 African countries as "free" and 23 as "partly free." "The trend lines are quite positive," according to Frazer.
The Bush White House deserves credit for taking a more active role in African affairs, Frazer said, noting that the administration employed a strategy of "transformational diplomacy" in the region.
"By engaging, the Bush administration has made a difference in the lives of millions of men, women, and children in Angola, Burundi, the Democratic Republic of the Congo, Liberia, Sierra Leone, and in Sudan," she said. "All of these changes are part of an historic shift, one in which Africans are taking leadership of their continent through the African Union and its new partnerships for Africa's development and its program of action."
On the economic front, the continent continues to make significant progress, Frazer said. The United States awarded $4.6 billion in targeted aid to African countries last year and has granted 100 percent debt cancellation for 14 sub-Saharan African countries. Growing international trade opportunities are also proving fruitful for many African markets.
And as wars end and economies grow, stable political systems are vitally important for the future of Africa. Frazer pointed to Liberia – which recently elected its first female president, Kennedy School graduate Ellen Johnson-Sirleaf – as a "shining example" of what the Bush administration hopes to accomplish.
"We are trying to nurture strategic allies, and we are trying to invest in success," Frazer said. "We are trying to leverage regional institutions, build their capability, and we need to contain failing states. Local involvement is central. Building institutions is central, and working in support of African leadership is central."
And despite the looming challenges ahead, Frazer said she feels good about what is happening in Africa. "I think we've come a long way. I think the people of Africa have come a long way. I think prospects for the continent are extremely promising."
The three-day Black Policy Conference, with the theme of "Bridging the Gap," concluded on April 23.