At 23 years, CityStep is older than its participants. Run entirely by undergraduates, the program partners young Harvard students with younger Cambridge public school students. Together, they dance the year away while exploring personal growth goals such as community, self-expression, creativity, and self-confidence.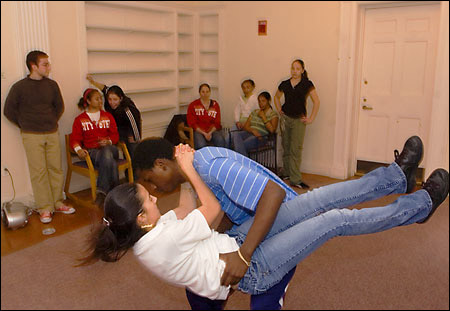 CityStep offers two dance-instruction programs: an in-school course at three fifth- and sixth-grade classes in the Cambridge public school system, and an after-school series on the Harvard campus that draws from graduates of the in-school programs. Regardless of the venue, the goals are the same – to have fun, to dance, and to grow. And the culmination each year is the City Step annual show – this year's program is April 7 and 8 in the Sanders Theatre. The title of the show is "Louder than Words" and it features dances inspired by quotes from famous figures such as Nelson Mandela, Indira Gandhi, and Maya Angelou. The dances were choreographed by the high schoolers working with their undergrad mentors, and the music was composed by Harvard students.
---
Performances are on Friday (April 7) at 7:30 p.m. and Saturday (April 8) at 1 and 5 p.m. Tickets are $6 for students and $8 for general admission and are available at the Harvard Box Office, (617) 496-2222.
---
The CityStep program serves more than 100 children, offering them a valuable creative supplement to their traditional education. On the other side of the coin, nearly 60 Harvard students work together to make it a success. Russell Graney '07, now co-executive director, spent the past two years as a CityStep classroom teacher. He recalls, "CityStep was the best thing that ever happened to me. My freshman year working with Cambridge students was the most fun and rewarding thing that I've ever done. I learned a lot about dance and about communicating with other people, and I know that they did, too. There was learning and growing on both sides."
This year, CityStep undertook a new curriculum that pairs personal growth aims with dance objectives. "It's been a great help in terms organizing and planning our classrooms," said Graney. "We've also shared the goals with our kids and focused all of our activities in a month toward them. It increases the chances of getting important values across."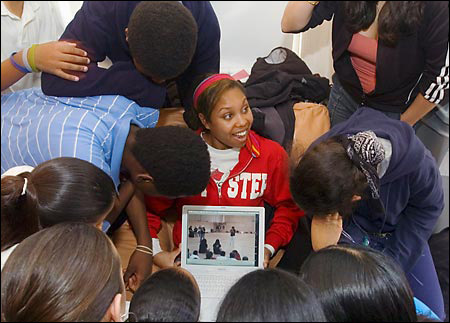 Perhaps the greatest indicator of the program's success is the youngsters who have joined the after-school programs. "These are kids who are involved in dance," said Graney. "It's a self-selected group. These are kids who enjoyed what CityStep was in the fifth grade and wanted to do it some more."
The reasons the group has continued for so many years, said Graney, are twofold. On the one hand, CityStep presents a free arts course to elementary schools and that's a great asset for the schools. And, on the other hand, the Harvard students keep finding CityStep to be a rewarding experience – and a lot of kicks: "It's a close-knit group of people," said Graney. "Most people in CityStep would say that their best friends are in CityStep. Generally, when you're in a group that teaches dance to students, you're likely to attract a lively, outgoing social crowd, so we all relate to each other."