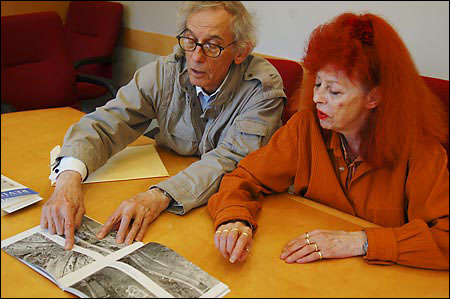 Christo and Jeanne-Claude, the husband-and-wife team known for their enormous outdoor art installations, were at Harvard Business School (HBS) April 5 teaching M.B.A. students about being entrepreneurs.
Christo and Jeanne-Claude's many projects have included suspending a nylon curtain across a 1,200-foot valley in Rifle, Colo.; surrounding 11 islands in Biscayne Bay, Fla., with floating mantles of pink polypropylene; constructing a fabric fence, 18 feet high and 24.5 miles long, across the hilly grasslands of Sonoma and Marin counties, Calif.; wrapping the massive Reichstag in Berlin, Germany, with more than a million square feet of silvery fabric; and, their most recent project, erecting 7,503 vinyl gates hung with billowing saffron-colored fabric along the sinuous footpaths in New York's Central Park.
These projects (which they characterize as "gentle disturbances") generally take many years to complete. Designing, engineering, fabricating, and constructing them is a daunting undertaking in itself, but what causes the most delay is obtaining permission from the dozens of government authorities and private individuals affected by a project. The Central Park "Gates," for example, took 26 years from conception to fruition at a cost to the artists of $21 million. "The Gates" remained in place for all of 16 days.
Working for a quarter century on a project that lasts for two weeks and doesn't bring in a penny of profit hardly seems like an entrepreneur's dream. What do these two have to teach future business leaders?
"They're really applying the principles of entrepreneurial management even if they're not making a profit," said Josh Lerner, the Jacob H. Schiff Professor of Investment Banking, and a member of the Entrepreneurial Management Unit. Lerner also co-wrote the case study on Christo and Jeanne-Claude (with professor of management practice Felda Hardymon and senior research associate Ann Leamon) that was used in the first-year M.B.A. course on entrepreneurial management in which the artists appeared as guests.
"They still have to have vision, the ability to undertake an ambitious project, to leverage resources, to manage financing. We thought it would be very useful for the students to look at a situation that was very different from the normal one," said Lerner.
Although it is unlikely that very many HBS students are going to model their careers on those of Christo and Jeanne-Claude, there may still be important parallels.
"There are a significant number of students who see themselves going into nontraditional entrepreneurial ventures, and for them it can be very instructive to see how one takes the entrepreneurial model and applies it to a nontraditional setting," Lerner said.
Christo and Jeanne-Claude were both born June 13, 1935, but in different parts of the world. He was born Christo Vladimirov Javacheff in Bulgaria, the son of an industrialist; she, Jeanne-Claude Denat de Guillebon in Morocco, the daughter of a French army officer. Christo fled Communist-controlled Bulgaria in 1956 and settled in Paris in 1958. He painted portraits to support himself and met Jeanne-Claude when he was commissioned to do a portrait of her mother.
---
More on Christo and Jeanne-Claude's project
---
The two have worked closely together ever since, choosing to let the world know them under the single name Christo. Now that recognition is no longer an issue, however, they have begun branding their projects with Jeanne-Claude's name as well. Now 71, spare, wiry, and approximately the same height, they might visually blend into one another were it not for the fiery orange beacon of Jeanne-Claude's hair.
According to Jeanne-Claude, the two were surprised when Lerner and his colleagues approached them with a request to speak at HBS. They had visited art schools before, but this was new territory, and they wondered whether they had anything to contribute.
"We thought maybe it was not totally appropriate," Jeanne-Claude said. "We build works of art, of joy and beauty, we refuse all sponsors, we use all our own money, and we get none of it back, just like parents do when they bring up a child."
Financing their own projects is a principle the two have followed from the beginning. The money comes from the sale of Christo's preparatory drawings to collectors, museums, and galleries. Obtaining lines of credit allows them to make sure their employees are paid on time, but they have always been able to pay the loans back in full. They believe that to accept outside funding in any form would impair their creative freedom.
"We create our projects basically for ourselves, just like an artist working in the studio. No one's going to tell him, 'Use red here,'" Christo said. Growing up in a communist dictatorship, he added, contributed greatly to his desire to protect his creative autonomy.
They also believe it is freedom that gives the projects their unique value and attracts people to see them.
"What is great in art is the freedom of the creative process," Christo said. "When a project happens, it is never because someone else decided that they want it there. There is no other reason for it to exist. That is why they attract so many people."
They also believe it is the projects' brief existence that contributes to their popularity.
"You are enjoying it, but already you are missing it," Jeanne-Claude said.
"There is such trivialization and banalization of imagery today," Christo added. "People like to say, 'It happened once, and I was there.'"
"Yes," Jeanne-Claude intoned. "Once upon a time there was the Valley Curtain."
Likewise, the permitting process, involving years of meeting with local officials, town councils, property owners, and environmental regulators, and finding solutions to endless problems and objections, slowly winning over one unbeliever after another until a consensus is reached – from Christo and Jeanne-Claude's point of view, this is an integral part of the artistic process and lends power to the project.
"A thousand people try to help us, and a thousand people try to stop us, and this creates energy," Jeanne-Claude said.
The artists are now trying to realize their next project, "Over the River," which they have been working on since 1992. They plan to suspend silvery nylon canopies over a 40-mile section of the Arkansas River in Colorado. Motorists driving along Highway 50 will see a shimmering surface billowing in the breeze, while those rafting down the river will pass beneath sections of fabric that will let in both sun and rain.
The artists must obtain permits from 17 federal, state, and local agencies, and provide for every possible contingency ranging from the impact of the project on bighorn sheep to the disruption of traffic patterns. Simultaneously they must solve the many technical problems involved in this huge, unprecedented construction. It is a time-consuming process.
"We have no life other than our projects," Jeanne-Claude said.