Joan Reede surveyed the scene as busload after busload of middle schoolers made their way into Harvard Medical School's gleaming New Research Building. A staff member approached, leading a young girl. "I'd like to introduce you to someone," the staffer began, but Reede quickly said, "Oh, I know her already. She wants to be a pediatrician."
---
---
The girl, shy around adults, immediately stood up tall and beamed. Being recognized by Reede – herself a pediatrician and the Medical School's dean for diversity and community partnership – obviously meant a great deal.
Recognition of young people – and support for their dreams – was the theme of the Tuesday (April 25) celebration, "Reflection in Action: Building Healthy Communities." Begun in 2003, the annual event asks local students in grades six through nine to create artworks about health issues – music, dance steps, short stories, poetry, posters, etc. – and then brings the artists and their classmates to Harvard Medical School for a day featuring inspirational speeches, a "Jeopardy"-style "health bowl," lunch served on linen tablecloths, and, of course, performances by the student winners.
For the first time this year, students from Cambridge were invited as well as those from Boston. Twenty-nine schools and programs participated, and nearly 400 students, almost doubling last year's number.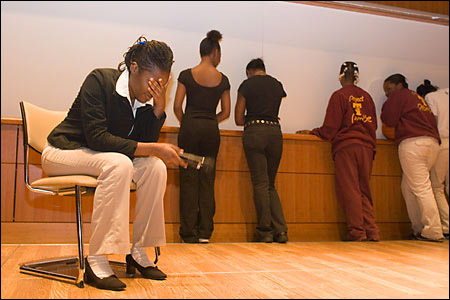 Speaker Keith Crawford, director of genomic and proteomic research at the Center for Molecular Orthopaedics, told the young people that while growing up outside San Antonio, he was more interested in football than school. But then mentors began to nourish his interest in health and science, and he went on to earn an M.D. from the University of Texas, Houston, and a Ph.D. from Harvard. Now he is a Harvard instructor in orthopedic surgery at Brigham and Women's Hospital who has researched a potential cancer vaccine and a response to chemical weapons.
"Everyone in this room has the ability to accomplish their dreams, but the question is, do you have the support?" Crawford said. "That's what you have right here."
That support was very much in evidence. Lakiyah Russell of New Boston Pilot Middle School was thrilled that she won a third-place award for a poster on asthma, from which she suffers. "Now I know that I can do things," she said. But she was proudest that her mother, Lynishia Whitlow, took the day off work to see her receive her award.
"This radiates outward," said Berinda Malden, science coordinator for New Boston Pilot Middle School. "Parents hear about it, and call their relatives in other states, saying, 'My child won an award at Harvard.'"
And the students showed that they deserved their prizes, displaying artistic talent and deep sensitivity to the health challenges they and their peers face. A first-place-winning play by students at Timilty Middle School dealt with a girl's fearful response to learning that a friend has HIV. She rejects the friend, asking the audience, "What would you do?"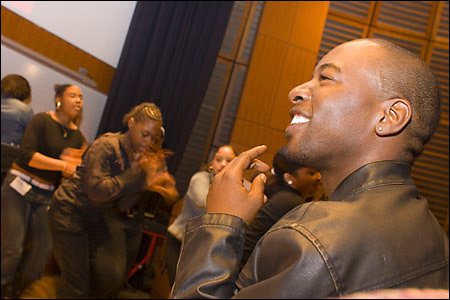 A first-place poster showing a green parklike area next to a seedy section of condemned buildings was titled "Pollution: Sometimes we need to ask ourselves: Why?" Other entries dealt with the dangers of smoking, drugs, and even sweets, such as Boston Latin Academy seventh-grader Jacqueline Ngo's poster of a mouth with teeth replaced by candy and cookies: "Now it is too late because of what you ate!"
Throughout the day, students posed for group pictures and basked in the glow of adult attention from teachers, parents, the staff of the Medical School Office for Diversity and Community Partnership, and Reflection in Action volunteers.
As the last line of an original song, "Life on the Streets," performed by a group from Mildred Avenue Middle School, had it, "I could feel the love."