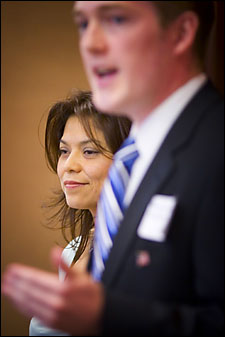 Can you name your state's senators? Can you list the original 13 Colonies? Do you know what the four parts of the first amendment are, or what freedoms are guaranteed by the Bill of Rights?
Telma Morales has the answers.
Morales, who responded correctly to these and lots of other questions posed to prospective U.S. citizens, received her citizenship in October 2005. She studied for the test for most of a year with the help of undergraduate Ben Sprague '06, a tutor in Harvard's Bridge to Learning and Literacy's citizenship program.
Bridge traces its origins to fall 1999 when English as a second language (ESL) classes were offered to 38 workers at the Harvard Faculty Club. These classes were organized by Carol Kolenik, who now directs Bridge. When that pilot program proved successful, it was quickly expanded to include educational opportunities to University operations services, dining services, and then all contracted employees.
"We started out with literacy and ESL as the main curriculum," said Kolenik, "And we realized that as people developed their four integrated skills of reading, writing, listening, and speaking in English, then they were going to need more advanced skills and opportunities for advancement. So we continued to expand the curriculum." Today, in addition to literacy courses, Bridge offers instruction in computers and help for those working toward a high school diploma, as well as assistance toward receiving citizenship.
Bridge offers classes and one-on-one tutoring, and helps people find internships at Harvard. For its general programs, Bridge draws volunteers from the ranks of Harvard employees to instruct and tutor its students. In its citizenship program, the volunteer tutors are undergraduate students. Together, Bridge's seven staff members and more than 70 volunteers will work with over 550 employee-students this year. In addition to their training in course content, all instructors are taught about the specific challenges – and pleasures – involved in teaching adults.
One of Kolenik's goals is to strengthen employees until they are able to take advantage of Harvard's Tuition Assistance Program (TAP). "All of the service employees were eligible for TAP," explained Kolenik. "But if you're not reading at a college level, you can't really take Extension School courses or classes at outside colleges." Bridge helps to improve students' English skills to where they can succeed in college-level courses. "And then we help people with very practical skills: note taking in lectures, writing papers, writing a personal statement for college applications, being able to participate in discussions in seminar classes. These are all skills that people need to make it through their first year of college and these are all skills that Bridge can help students learn."
The citizenship program began in 2003. The tutors use a curriculum that focuses on the 100 most frequently asked questions in a citizenship exam. "But we also give people the background material behind the questions," said Kolenik. "We explain the basis of the Revolutionary War and what it means to be independent – what we really want to do is to instill a sense of citizenship and get people to be involved in the country."
Morales, who moved here from Guatemala in 1987 and who works at the Business School Faculty Club, met with her tutor twice a week. At an April 6 dinner recognizing the Bridge citizenship program and the country's newest citizens, she said of her tutor, "Ben was very good. He explained everything to me very well and he always told me 'I can do it.'" Sprague, who is concentrating in government and is graduating this year, credits Morales for inspiring him: "I was so proud of her in general," he said, "but her work ethic has really helped me. She works this job at the Business School, she is raising a family on her own, and I know she doesn't have a lot of time for extra things. … [T]he value she placed on getting her citizenship made me appreciate my citizenship more."
President Lawrence H. Summers, who attended the proceedings, said, "This country is made up mostly of immigrants or descendants of immigrants. … The great strength of this country has always been that we come together from a million different traditions with a million different backgrounds, but all as Americans." Of the citizenship program, he said, "This work of education is as important as any other work of education that we do at Harvard."