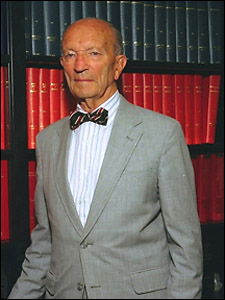 The French Consul General in Boston M. Francois Gauthier conferred the insignia of Knight of the Legion of Honor on Charles L. Schepens, clinical professor of ophthalmology emeritus, in a special ceremony on March 21. Given on behalf of the French government, the prestigious award recognizes Schepens' patriotic service to the Nazi resistance in World War II, and his lifelong contribution to advancements in the diagnosis and treatment of retinal diseases.
Now 94 years old, Schepens is known worldwide as the father of modern retinal surgery, but was, until recently, little known for his role in the underground movement in Europe. From June 1942 to July 1943, the Belgian-born Schepens directed a highly secret information and evacuation operation in a French Basque village in the Pyrenees. Working in coordination with the Belgian resistance, Schepens adopted the alias Jacques Perot and oversaw a large-scale lumber mill and logging enterprise to camouflage his clandestine work. Among the 100-plus individuals who escaped Nazi occupation through this "underground railroad" were leaders of the Belgian resistance and young French draft dodgers. The story of Schepens' courageous wartime accomplishments only recently came to light with the 2004 release of "The Surgeon and the Shepherd: Two Resistance Heroes in Vichy France" by Meg Ostrum.
After his own daring escape from France, Schepens spent the remainder of the war in Britain. There he resumed his ophthalmology career and developed the prototype of the indirect binocular ophthalmoscope, the instrument that first gained him international repute (a model of this ophthalmoscope is in the permanent collection of the Smithsonian Institution). Soon after his postwar emigration to Boston, Schepens revolutionized surgical techniques for retinal reattachments with the development of the scleral buckling operation, and also established the Retina Foundation, which evolved under his direction into two separate organizations that are currently called the Schepens Eye Research Institute and the Schepens Retina Associates Foundation.
Over the years, Schepens and his team of scientists advanced laser surgery, pioneered equipment such as the Laser Doppler Flowmeter, and trained several generations of retinal specialists, now practicing throughout the world. Since 1998, Schepens has devoted his time exclusively to the Schepens Retina Associates Foundation, which is dedicated to clinical research, teaching, and patient care. In recognition of his accomplishments, Schepens was elected by his peers in 1991 as "One of the Ten Most Outstanding Ophthalmologists of the 20th Century," and in 2003 the American Academy of Ophthalmology named him one of only three laureates.
The Legion of Honor award, established by Napoleon in 1802, is the most prestigious medal given by the French government. According to Gauthier, "Usually such an award is made for outstanding contributions in a single career or field. Charles Schepens has distinguished himself twice over. Still active in his 90s, he also truly exemplifies Napoleon's vision of a life of continuous accomplishment."