Playwright Christopher Durang '71 has recently been named the recipient of the 12th annual Harvard Arts Medal. Harvard President Lawrence H. Summers will present the medal to Durang on May 5 as part of Harvard's 14th annual Arts First 2006 celebration (May 4-7). A discussion with Durang on his career and creative process will follow with actor John Lithgow '67, who appeared in the playwright's "Beyond Therapy" on Broadway in 1982.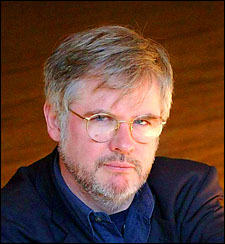 Sponsored by the Office for the Arts (OfA) at Harvard's Learning From Performers program and the Board of Overseers of Harvard College, the event will take place at Agassiz Theater, 10 Garden St., in Radcliffe Yard.
For the past three decades Durang has been a dynamic voice in American theater. New York Times theater critic Ben Brantley described Durang as a "deeply influential dramatist, who steered the suburban domestic comedy into dark and uncharted waters." In the 1980s Durang won two Obie Awards for "Sister Mary Ignatius Explains it All For You" and "The Marriage of Bette and Boo," two plays in which absolutist morality and chaotic reality collide in explosive comedic terms.
With a third Obie Award for "Betty's Summer Vacation" in the late 1990s, Durang began an exploration of contemporary American society through the cultural neuroses of media sensationalism and apocalyptic fetishism. Critic Frank Rich has lauded his "esthetic and moral calling … for wrapping life's horrors in the primary colors of absurdist comedy."
Durang's notoriously incisive criticism of religion has roots in his years at Harvard, when he wrote "The Greatest Musical Ever Sung," a satire that produced a hailstorm response in the pages of the Crimson, in which one critic labeled him "a pig trampling in a sanctuary." Among the rare highlights recalled by Durang of his time in Cambridge is a playwriting seminar his senior year under the late William Alfred. Since 1994, Durang has been co-chair of the playwriting program at the Juilliard School in Manhattan.
The Harvard Arts Medal honors a distinguished Harvard or Radcliffe graduate or faculty member who has achieved excellence in the arts and has made a contribution through the arts to education or the public good. Durang joins previous medal recipients including poet Maxine Kumin '41, cellist Yo-Yo Ma '76, film director Mira Nair '79, director Peter Sellars '80, composers William Christie '66 and John Harbison '60, National Theatre of the Deaf founder David Hays '52, author John Updike '54, musicians Bonnie Raitt '72 and Pete Seeger '40, and the late actor Jack Lemmon '47.