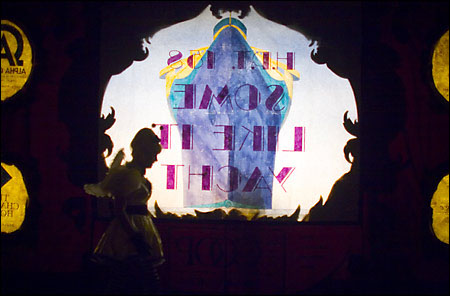 Actor, tap dancer, and People magazine's former "sexiest man alive" Richard Gere was tested to see if he was "man enough" to receive the Hasty Pudding Pot on Friday night (Feb. 24).
Mary Kate Burke '06, co-producer of "Some Like It Yacht," opened the evening's entertainment by welcoming a "seasoned, distinguished, and mature actor …"
"I get it, he could be my dad!" interrupted co-producer and co-host Ashley Zalta '07.
"… to the home of tomorrow's leaders and today's cross-dressers," continued Burke.
Noting that, in addition to his impressive acting credentials, Gere is also an enthusiastic humanitarian, the students asked, "What kind of humanitarian would subject people to 'The Mothman Prophecies?'" – a reference to Gere's 2002 movie that dealt with a winged, semi-human creature. Gere was then challenged to explain the plot of the movie without using the words "mothman" or "prophecy."
---
View additonal photos
---
"I can't even remember the movie!" exclaimed Gere.
Next, his hosts began to dis Gere's role in the 2000 film "Dr. T and the Women."
"It was a good film!" Gere protested.
"It was a film," Burke agreed.
In that film, Gere portrayed a gynecologist. On the Pudding stage, Gere was, accordingly, asked to assist in a "gynecological emergency" as a seemingly pregnant, seemingly female figure was rolled out onto the stage. Gere promptly rolled up his sleeves and skillfully "delivered" a baby.
The newborn proved unusually inquisitive, asking Gere two questions. Noting that Gere was the first man ever to appear on the cover of Vogue magazine, the baby demanded, "How do you defend the manliness of that?"
The infant averred that he enjoyed repeat viewings of Gere's films, adding that while he enjoyed his second viewing of 1999's "The Runaway Bride," with Gere and Julia Roberts, he liked it better the first time, when it was called "Pretty Woman" (1990). "How," he asked Gere, "do you justify making the same movie twice?"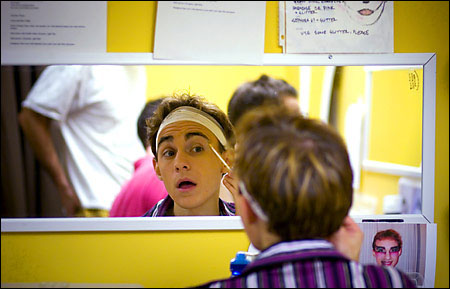 "It made more money the second time," Gere explained.
Upping the ante, the co-producers instructed Gere to revisit his high school and college athletic skills by performing the most manly of gymnastics events, the rhythmic ribbon routine, in an attempt to seduce a cross-dressing dragon. Gere's efforts were not entirely unsuccessful, but to clinch the dragon's heart, he was ordered to perform a tap dance – in heels.
Finally, Gere was asked to sing "Razzle Dazzle" from 2002's "Chicago." Of course, in true Hasty fashion, he was given an alternate set of lyrics: "I could become a permanent resident," he sang, "I could become your next president!"
After the rather gentle ordeal, Burke and Zalta agreed that Gere had proved himself a man. But not just a man – a "Pudding man," and with that, he was dressed in a blond wig and the ubiquitous brassiere.
"First Knight" Gere was roasted as part of the first night performance of "Some Like It Yacht," the Pudding's 158th annual production. Asked at the press conference if he'd talked to any previous Hasty Pudding Pot winners, Gere admitted, "I came like a babe in the woods."
The Man and Woman of the Year awards are presented annually to performers who have made a "lasting and impressive contribution to the world of entertainment." This year's Hasty Pudding Woman of the Year is actress Halle Berry. Berry collected her Pudding Pot on Feb. 16.
This year's production is being held at Zero Arrow Theatre, as the 12 Holyoke St. building that housed the Hasty Pudding Theatricals since 1888 is in the midst of a two-year renovation. The show plays at Zero Arrow Theatre through mid-March, before appearing in New York City at Hunter College for two nights, and then heading to Bermuda for performances March 29 through April 1.