Henrietta Harrison, a historian of modern China whose study of emblematic individuals and communities has opened broad new windows on China's dramatic cultural and political shifts over the past two centuries, has been appointed professor of history in Harvard University's Faculty of Arts and Sciences, effective July 1.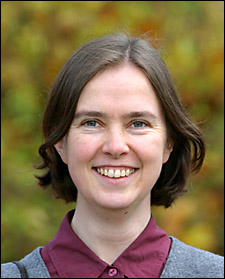 Harrison, 39, comes to Harvard from the University of Leeds, where she has been lecturer in Chinese since 1999.
"Professor Harrison ranks among the most eminent of a new generation of scholars studying 21st century China," says William C. Kirby, Edith and Benjamin Geisinger Professor of History and dean of the Faculty of Arts and Sciences. "She has tackled big issues, in settings ranging from the national to the local. She has revised our understanding of the modern Chinese nation-state and what its creation meant to ordinary people. Without romanticizing ordinary life, her probing of small communities as exemplars of larger social trends analyzes nationalism, ethnic and cultural identity, and the character of modernity."
Harrison has authored three books and edited a fourth. Her first book, "The Making of the Republican Citizen: Political Ceremonies and Symbols in China, 1911-1929" (Oxford University Press, 2000), illustrates how modern identities were shaped in a postrevolutionary atmosphere where old cues of social and political behavior were rendered irrelevant. Drawing upon eclectic sources ranging from government archives to memoirs, Harrison explores how a new political culture emerged in early 21st century China, reflected in the adoption of cultural practices ranging from new hairstyles and dress to participation in political celebrations. She then traces the process by which the new state appropriated national symbols, such as the flag, anthem, and calendar, and suffused them with partisan ideology, concluding that "the people of China today are Chinese not because of their participation in traditional rituals of birth, death, and marriage, but because of their participation in modern rituals of statehood."
Harrison's 2004 book "The Man Awakened from Dreams: One Man's Life in a North China Village, 1857-1942" (Stanford University Press) draws upon the diaries of a north China scholar increasingly marginalized by the onrush of modernity and its new ideologies. This gritty vignette of a downwardly mobile Confucian literatus, estranged from the society of his day, offers a window on two great 20th century Chinese themes: the decline of the countryside in the shadow of urbanization and the demise of Confucianism concomitant with the rise of "modern" ideas.
Harrison is now engaged in her fourth book, a study of Catholic villages in Shanxi Province from the 18th century to the present, which promises to offer a detailed portrait of rural religious activities and the long-term impact of missionaries on the Chinese countryside. She also plans to pen a synthetic history of 1950s China.
Harrison holds a B.A. in classics, awarded in 1989 by Newnham College of the University of Cambridge; an M.A. in regional studies of East Asia, awarded by Harvard in 1992; and a D.Phil. in Oriental studies, awarded by St. Antony's College of the University of Oxford in 1996. She was a Fulford Junior Research Fellow at St. Anne's College, Oxford, from 1996 to 1998 before joining the University of Leeds, and has also held fellowships at the Institute for Advanced Study in Princeton, N.J., Oxford, Nanjing University, and Harvard.