Reflecting upon his own experience after returning from the Vietnam War, Sen. John Kerry (D-Mass.) said to a Kennedy School of Government (KSG) audience, "We lived in a very complicated period of time when the war was confused with the warrior and vice versa, so that whatever normal proclivity there was in America to welcome home those who served, to say 'thank you,' to celebrate that service, had melted away."
This sentiment was echoed by Sgt. Russell Anderson, who served in Iraq with the Army. When he returned after a yearlong tour of duty in February 2005, there were no parades or welcome-home parties. "Once the uniform came off, all the photo opportunities were gone," he said. "They forgot, as far as I'm concerned."
Anderson and Kerry spoke at the March 10 premiere of the documentary film "Hidden Wounds" at the John F. Kennedy Jr. Forum. Anderson is one of the three Massachusetts soldiers profiled in the film, which chronicles the difficulties the men experienced when attempting to revert from soldiers in a war zone to citizens and family men back home. Anderson suffers from post-traumatic stress disorder (PTSD). He initially resisted counseling, he said, which he felt was for the weak, but he eventually sought treatment.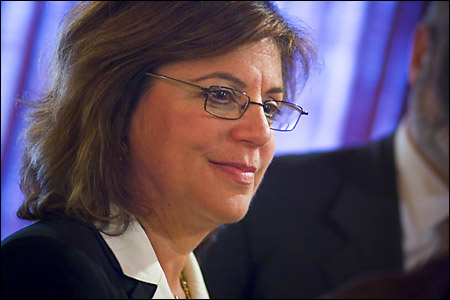 Philip Balboni, Vietnam veteran and president and founder of New England Cable News, which produced the documentary, was on hand to introduce the film. He said, "According to the National Center for PTSD, the estimated risk for post-traumatic stress disorder from service in Iraq is one in five soldiers."
Also attending the premiere was a former senator from Georgia, Max Cleland. Cleland, a Vietnam veteran, served as administrator of the Veterans Administration (VA) under President Jimmy Carter. He noted that PTSD is now regarded as a legitimate condition but that it hasn't always been so – "It wasn't even a diagnosis in the Veterans Administration until 1978," he said.
The film details the terrors of the war in Iraq, as U.S. soldiers struggle against an enemy they can rarely distinguish from the civilian population. The men recount the experience of being shot at, of having bombs explode nearby, and of how it feels to live in a constant state of preparedness. And they describe how difficult it is to return to normal life at home.
Nate Fick, an M.P.A./M.B.A student at KSG and the Harvard Business School, was a Marine platoon commander in Afghanistan and Iraq. In the film, Fick describes how, after his return home, a firecracker at a Fourth of July celebration startled him and how he instinctively ducked behind a parked car. For nearly a year after returning from the war, Fick suffered from depression. He found his therapy though writing – the resulting book, "One Bullet Away," has been met with acclaim.
The film also spotlights Jeff Lucey, who joined the Marine reserves as a high school senior in 1999. He spent a year as a truck driver in Iraq, returning home in 2003. He began drinking heavily and became increasingly depressed. His parents attempted to have him committed to the VA hospital for treatment for PTSD, but the VA refused to treat him until he stopped drinking. He committed suicide at age 23.
Kerry told the audience members that they had a "solemn obligation … to make certain that there are no Jeff Luceys in the future."
Brig. Gen. Oliver Mason, who spoke following the screening, is the adjutant general of the Massachusetts National Guard, with 11,000 personnel under his command. The message he took from the film, he said, "is that veterans need to know that there is no stigma with being a veteran and no stigma to having a problem and receiving counseling. The message that we have to get across America is that every veteran who comes back deserves to be welcomed back and they deserve to get the care that they need."