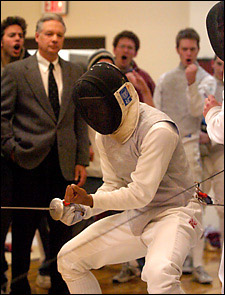 The ghosts of Harvard Fencing's past were smiling on Sunday evening (March 19).
After all the touches had been counted, after all the bouts had been scored, and having already secured championships in both the Ivy League and Intercollegiate Fencing Association (IFA), the Crimson capped off a season for the record books by winning their first-ever NCAA championship in Houston this past weekend (March 16-19). Harvard fencing finished sixth at the NCAA championships in 2005.
The Crimson team found itself at the top of the heap after four days of competition, rallying from a fifth-place position after day one, and steadily improving until they found themselves in first place at the end of Saturday's (March 18) penultimate round. The Crimson earned a total of 165 victories, beating out 28 other teams for the national title, including such traditional powers as Penn State, Ohio State, and Notre Dame.
Youth was served at the championships as a crop of talented underclassmen helped the Crimson to the national title. Leading the charge on the men's side was Benji Ungar '08 in men's epee, claiming the NCAA individual epee title in dramatic fashion by besting Ohio State's Denis Tolkachev by a score of 15-14, while Kai Itameri-Kinter '09 helped ensure the Crimson's lead with a sixth-place finish in men's foil. For the women, sophomore Emily Cross earned the bronze medal in women's foil, while Maria Larsson '09 finished a solid ninth in women's epee. In total, seven Crimson fencers earned All-America honors.
The championship marks the culmination of years of steady improvement and solid recruiting under the guidance of head coach Peter Brand, and serves as a fitting conclusion to the collegiate careers of seniors Anne Austin, David Jakus, Amy Li, Julian Rose, and Chloe Stinetorf.
This is the fourth NCAA championship won by a Harvard athletics program, the fencing team enjoying a distinction also held by the 1989 men's ice hockey team, the 1990 women's lacrosse team, and the 2003 women's rowing team.