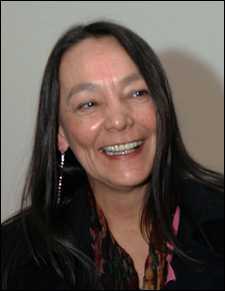 Canadian actress Tantoo Cardinal presented a sampling of her films at the Harvard Film Archive and accepted the Sun Hill Award for Excellence in Native American Filmmaking on March 3 and 4, respectively. Now in its second year, the award (jointly sponsored by the Sun Hill Foundation and the Harvard Film Archive) is given in honor of a director, actor, producer, or writer who has made a significant contribution to the legacy of Native American film.
One of North America's most widely recognized Native American actresses, Cardinal (who is of Cree and French descent) has appeared in more than 50 films, including "Dances With Wolves," "Where the River Flows North," "Black Robe," and "Honey Moccasin." Cardinal came of age in Canada during a time when native culture was still viewed with suspicion by the Canadian government. In the mid-'60s, the Canadian Content Rule came into effect. By strengthening the Canadian artistic community, this new law led to an increased number of roles for Native American actors in Canadian film and television.
As a young actress, Cardinal began her career with a docudrama for the Canadian Broadcasting Corp. (CBC) and in productions for the Alberta Native Communications Society. She soon moved on to play larger roles in feature films.
"We had no TV where I grew up in my community in northern Canada, and the only images of native people that I was exposed to were my family and my relatives; these were wonderful and strong individuals whom I looked up to," Cardinal said. "It was only when I moved to Edmonton in Alberta in 1965, that I saw a different kind of image that was prevalent in Canadian society at that time, a negative image of native peoples as having no fixed address, and of being somehow 'lesser than.' Acting for me was a way to redress this imbalance; acting allows me to present a different kind of truth, to bring some light back into the stories of our history."