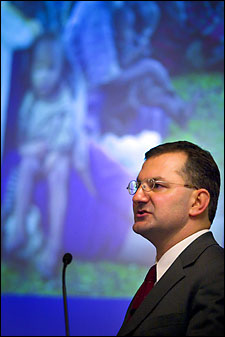 Peter Salama, M.P.H. '97, is an expert on the epidemiology of conflict and famine in complex emergencies, which is to say that he studies what kills people when things like war and droughts happen. On March 2, Salama visited the Radcliffe Institute for Advanced Study as part of the Voices of Public Intellectuals lecture series and shared some of his experiences and insights.
Focusing on what we have learned over the past 25 years of attempts to ameliorate death and suffering in wars, refugee camps, and sometimes entire countries, Salama, who is chief of immunization and child survival at UNICEF, enlivened his talk with vivid and disturbing examples.
He distinguished between direct and indirect causes of death in a complex emergency. A direct cause is violence, such as ethnic cleansing or aerial bombardments. Indirect causes include undernutrition and disease. In some emergencies, direct violence predominates, as it did in Kosovo in 1998 and 1999. In others, such as in a Sudanese camp for refugees of the Ethiopian famine in 1985, diseases are the primary killers.
Direct causes of death
In Kosovo in the late 1990s, 64 percent of the deaths were due to war-related trauma. However, the specific number of deaths was in contention for a long time. According to Salama, at one point the U.S. State Department estimated that 100,000 people had been killed. This number, said Salama, was used as a "pretext" for NATO's aerial bombardment of Kosovo, which began in March 1999. By December of that year, the State Department had lowered their estimate to 10,000. Salama, using a household survey of nearly 1,200 homes, estimates that approximately 19,000 people died as a result of the conflict.
---
• Next in the Voices of Public Intellectuals lecture series, 'Flight From Attack and Atrocity: The Impact of War-Induced Violence Against Women,' 4 p.m. March 14, Cronkhite Living Room, 6 Ash St.
• View the video archive of this event
---
The results of that survey revealed two compelling pieces of data – one, that the intensity of the Serbian campaign of ethnic cleansing increased after the NATO bombardment began. Salama said that while there was direct targeting of civilians and massive human rights abuses prior to the NATO bombardment, it wasn't until the NATO bombardment started that the Serbian army, realizing that it was going to lose the war, began large-scale targeting of Kosovo and Albanian citizens. It may be, Salama theorized, that NATO's bombing precipitated the increase in ethnic cleansing.
The other surprise of the survey was about who died in the conflict. Men over 50 years old had the highest death rates, accounting for 43 percent of the war-related deaths. Salama believes that the Serbian army chose this as its form of genocide: "Recognizing that Kosovo-Albanian patriarchs in that society were critical to the stability of families and the likelihood that refugees that had fled the borders would return – if the patriarch of the family was no longer there, there was a much less likelihood that Kosovo-Albanian families would return to their homes."
The lesson we should learn, according to Salama, is that we can use this information to protect the vulnerable population – men over 50 – should a similar conflict break out again in this region.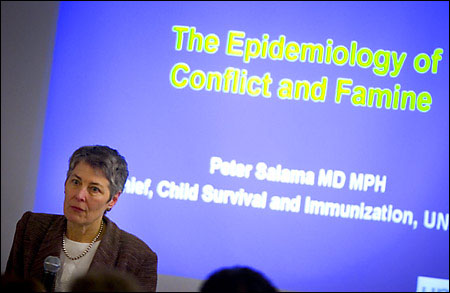 Indirect causes: Disease and undernutrition
When looking at the deaths caused by disease and undernutrition in war and famine situations, Salama said that children under 5 are at the highest risk, dying at between two and four times the rate of the general population. What kills them is not a mystery: "About 10 and a half million children every year die, globally, of very basic illnesses – pneumonia, diarrhea, malaria, measles, and HIV. It is, in fact, the same illnesses that are responsible for the overwhelming majority of deaths in complex emergencies," said Salama.
Citing a lesson learned over the past few decades, Salama presented data from refugee camps in Somalia and Sudan from the 1980s. At that time, measles was the No. 1 killer of these refugee populations. Now, said Salama, measles vaccinations are a "reflex intervention" that gets performed in emergencies and now we rarely see large numbers of measles deaths.
There are, unfortunately, still incidences where the reflex doesn't strike, and Salama stressed the importance of getting the mix of relief aid "right." For example, in an area of famine-struck Ethiopia in 2000, massive food aid was delivered, but no public health assistance. What happened, according to Salama, is that the food aid attracted the population from surrounding areas to a concentrated site. "You had a massive undernourished congregation attracted to a central location and then massive outbreaks of measles and other infectious diseases." The diseases thrived on the undernourished masses. At the time the food aid arrived, there were about four measles deaths per 10,000 people per day. Two months later, as the local population soared, the measles death rate had climbed to 10 per 10,000 people per day.
"This was a setting where not only was the humanitarian response very late, but it also was inappropriate and probably actually contributed to mortality rather than decreasing it. It shows the dangers of getting things wrong," said Salama.
The UN has set 2015 "Millennium Development Goals," including that of reducing by two-thirds the mortality rate for children under 5. Of the 20 countries around the world with the highest under-5 mortality, 11 are currently facing or have recently faced complex emergencies. According to Salama, "If we're going to be serious about the Millennium Development Goals, we have to be very serious about complex emergencies and consider that this work is part of the mainstream international development."