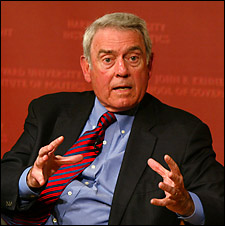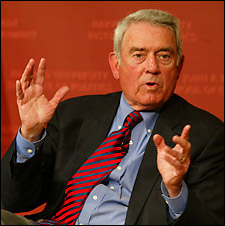 Acknowledging that demographics, not ratings, are now king in the media world, former CBS anchor Dan Rather told a Kennedy School of Government (KSG) audience that he could easily see "Daily Show" host Jon Stewart replacing Andy Rooney on "60 Minutes" when Rooney retires.
"Satire, which Stewart is an expert at, is particularly valuable in a country such as ours," Rather said during his March 9 talk at the Kennedy School's JFK Jr. Forum. "Satire can be telling in a way that journalism can't, especially with younger people."
When asked what kind of advice he had for aspiring journalists in the audience, Rather, who left the anchor desk exactly one year ago, poked fun at himself.
"I wish I had something wise and truly profound to say to you, but I'm just a reporter who got lucky," he said. "I can be as dumb as a brick wall, and I often am, but I know one thing: I got lucky."
Beyond luck, he said writing skills and a love for what you do are also critical.
"Writing is the bedrock of the craft. Without it, you're not likely to get very far," he said. "You must also burn with a hot, hard flame to do it. You must love the news with the white, hot flame that dictates perseverance."
In a night of questions and answers that was, at times, emotional for the 74-year-old who insisted he is not an "icon," Rather got choked up when talking about idealism and his former employer.
"I love 'CBS News.' I love the people there," he said. "There's such a high level of idealism at CBS. You can't work there and not be idealistic."
Asked, then, why the news seems so sensationalized and less investigative, Rathers pointed his finger at corporate pressures and the lack of accountability from the public.
"Those of us in the press have a lot to answer for, but so do all of you in the audience," he said. "Public support for the watchdog role of the press has eroded during my lifetime. You see less and less public support for it. The American press needs a spine transplant. We've lost our backbone. But as public support for the watchdog role diminishes, the willingness of the press to take risks, be bold, and cultivate sources also diminishes. Without this, a big chunk of accountability in government will go down the drain."
The event was co-sponsored by the Institute of Politics and the Shorenstein Center for the Press, Politics and Public Policy.