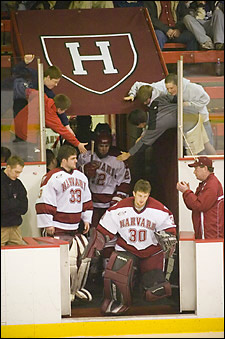 In the latest leg of this season's ECAC Hockey League title run, a best-of-three quarterfinal series against visiting St. Lawrence University on March 10-12, the Harvard men's hockey team took a bad spill, got up, and then proceeded to dust the competition. For the resilient and then-some Crimson, the redemptive powers of beating the Saints 3-2 and 8-4 in the second and deciding contests, respectively, ought to put a strut in their skates heading into Friday's (March 17) conference semifinal against Dartmouth.
Harvard's eight-goal output in Sunday's (March 12) deciding game marked a season high for the home team (19-11-2): a daring comeback following the Crimson's lone-goal effort in the series opener on Friday (March 10). In that game, the fifth-seeded Saints (21-17-2) weighed down the hosts, 5-1, thanks largely to the net skills of St. Lawrence's Justin Pesony. The sophomore grabbed 31 saves on the evening, including 18 in the final period.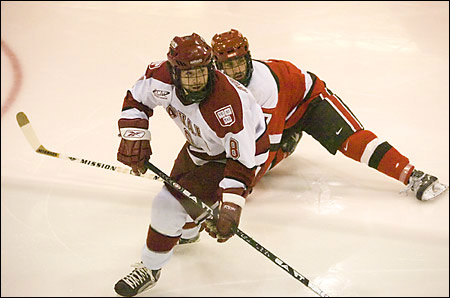 Things began to tip in Harvard's favor the following night when Dave Watters '08 tallied the eventual game-winner with 2:26 remaining to edge the visitors, 3-2, forcing Sunday's tiebreaker. In that third and final game, Watters immediately picked up where he left off, tallying Harvard's first of three opening-period goals just 25 seconds in. Then, at 15:22, senior Dan Murphy started out his hat trick to extend the Crimson lead to 2-0. And though St. Lawrence closed out the period down a manageable 3-1, Harvard continued the onslaught in the middle frame, outgunning the Saints by six shots (19 to 13) to take a 6-2 advantage.
Next up, No. 4 Harvard will have to get through No. 1 Dartmouth, the 2006 ECACHL regular season champs, on Friday for a chance to advance to the ECACHL title game against either Colgate or reigning champion Cornell the following day. Also on Friday, the Crimson women – newly declared ECACHL champs – visit No. 1-ranked New Hampshire in the first round of the 2006 NCAA tournament. Visit http://www.gocrimson.com for all the scores.