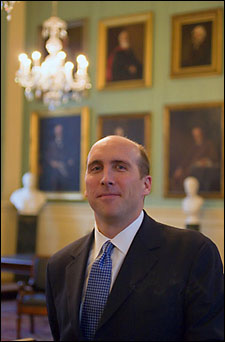 Brian W. Casey, who recently took the reins as the new associate dean for academic affairs in the Faculty of Arts and Sciences (FAS), comes at a time of extraordinary faculty growth. During the past year alone, the Faculty has increased from 672 to nearly 700 strong. And as he works with the academic leadership within FAS on recruitment and retention of faculty, Casey intends to keep pace with the ambitious goal of reaching 750 within the next few years.
"I welcome the challenge," Casey said. "We are at a dynamic point in FAS history. The opportunity to expand the size of the Faculty affords the University the ability to embrace new areas of inquiry, meet changing patterns of student interests, and further strengthen areas of historical leadership across a variety of disciplines. I am especially looking forward to working with faculty in the recruitment of new scholars as well as in the development of departmental priorities."
"We are, indeed, very fortunate to have Brian working with the Faculty," said FAS Dean William C. Kirby, the Edith and Benjamin Geisinger Professor of History. "Through his work with the faculty at Brown, including long-range planning, faculty development, setting departmental priorities, and fundraising goals, he developed skills and experience that will be invaluable as we proceed with plans to expand the ranks of the Faculty. Brian knows Harvard well, and – even more important – he shares the core academic values that are the foundation of this Faculty."
One of Casey's priorities is to develop a three-year rolling plan for faculty searches, designed to allow departments greater flexibility in faculty hiring to meet departmental needs over a number of years. "Recruiting leading faculty and attracting the most promising young scholars is now, for better or worse, a multiyear process engaging a significant number of members of nearly every department. We have to make sure that the departments have the planning tools, and the support, necessary to recruit effectively," he said.
Casey, 42, replaces Vincent J. Tompkins, who left Harvard last fall to become deputy provost at Brown University. In a coincidental swap, Casey joined the FAS staff after having held a variety of positions at Brown over the past seven years. Most recently, he was assistant provost, responsible for all arts and sciences academic planning. In that capacity, he served as the chief staff member on the Academic Priorities Committee, Resources Committee, and the Brown University Corporation Academic Affairs Committee. Further, he spearheaded a multidepartmental initiative that he said was "designed to introduce students to a multidisciplinary approach to the study of commercial and entrepreneurial behaviors and phenomena, and to support faculty research in commerce, organizations, and entrepreneurship."
In a similar effort, Casey helped develop another multidepartmental program that brought faculty, students, and visiting fellows together who were involved in the study of America's past. "This international seminar highlighted and strengthened faculty work across Brown's departments of history, English, American civilization, anthropology, Africana studies, and the Center for the Study of Race and Ethnicity in America," Casey said.
At Brown, Casey also developed faculty retirement and intellectual property policies, was responsible for negotiating faculty retirement agreements, worked with development to help set academic priorities in fundraising efforts, and articulated and communicated new university-wide academic initiatives.
Casey began his years at Brown in 1998 as a visiting faculty member in American Civilization, teaching seminar courses on the history of American higher education, American literary history, and 20th century American culture. Later, from 1999 to 2002, he became an executive officer in the provost's office.
Casey also has a Harvard history. He earned a Ph.D. (2000) in the History of American Civilization, specializing in the history of American higher education and American intellectual and literary history. His M.A. degree from Harvard is also in history. Later, he held a three-year appointment as a tutor in history and literature, teaching in the undergraduate honors program. He holds a J.D. from Stanford University.
One could not talk about Casey without mentioning one of his passions, aside from all things academic, that is. He is a world champion swimmer. While earning his B.A. degree at the University of Notre Dame, he became the varsity swim team's captain and, in 1985, was named scholar athlete of the year. Several years ago, he helped develop a Boston regional masters (over 25 years old) swim team, now a part of the U.S. Masters Swimming organization. He is still very active in the group and is a recent national champion in the 200 butterfly, and the 200 and 400 individual medleys. He clearly has the stamina to succeed in one of the University's most important positions.